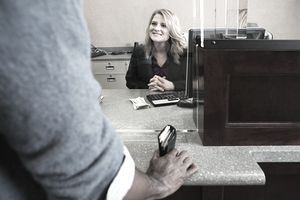 Bank Branch Closings: In recent years, there has been a downward trend in the number of U.S. bank branches. The FDIC conducts an annual survey called the Summary of Deposits, with data collected as of June 30. Highlights of the 2015 survey include:
Total branches nationwide were 93,283 as of June 2015
Branches nationwide fell by 1.5% from June 2014 to June 2015
Branches nationwide fell by 6.3% from June 2009 to June 2015
Bank of America cut its branches from 5,656 to 4,861 (-14.1%) between 2012 and 2015
JPMorgan Chase reduced its branches from 5,694 to 5,545 (-2.6%) between 2013 and 2015
Savings banks and S&Ls increased their branches from 10,800 to 11,273 (+4.4%) between 2011 and 2015
Historical Perspective: The banking sector has, in recent decades, alternated between cycles of opening and closing branches, driven largely by shifting perceptions of the tradeoffs between the costs thereof, and their potential for capturing incremental customers and revenues. This is yet another manifestation of the sometimes manic depressive nature of the financial services industry, which leads, inevitably, to recurring patterns of net hiring and net layoffs.
Nonetheless, the long-term secular trend in U.S. bank branches has been upward, driven mainly by commercial banks. There were nearly 8 times as many commercial bank branches in 2015 as in 1960.
Growth has slowed in recent decades, however. The 2015 figure is about 33% higher than the 1994 total. Meanwhile, there has been a significant contraction in savings banks and S&L locations between 1994 and 2015, down by 56%.
Looking Forward: The movement of deposit and checking accounts to brokerage and mutual fund companies is likely to spur branch contraction at traditional banks.
New technology, such as depositing checks via scanning with a mobile device, also is bound to result in branch contraction. Various surveys indicate that about 50% of U.S. households bank online to some degree. See our discussions of central asset accounts, asset gathering by brokerage firms and mobile banking.
While growing numbers of customers find bank branches increasingly less convenient or necessary for a variety of routine transactions, they still value face to face interactions when engaged in more complicated activities. Additionally, traditional banks tend to insist upon face-to-face interactions in a branch for account openings, given legal requirements for verification of new customers' identities. The same is true for most loan applications.
Nonetheless, surveys also reveal that even those customers who prefer to bank online or via smartphones frequently choose their bank based on the availability of nearby branches, presumably in case they encounter situations or problems that warrant resolution via face to face interaction with bank staff.
Other Noteworthy Facts: In addition to tellers and loan officers, bank branches are increasingly places where one may find financial advisors if the bank also offers brokerage and investment services.
Local banking markets may have dynamics at variance with the national trend. In the City of New York, for example, (particularly within the borough of Manhattan) the major banking players are still aggressively opening new branches, willing to pay the escalating rents that have driven restaurants and retailers from the same spaces.
The opening of small branches in supermarkets is a low-cost way (only 10 to 15% of the setup costs and 50% of the recurring costs associated with standalone branches) in which some banks are expanding their footprint. A related phenomenon is a movement into banking by some major retailers.
To expand on the last point, it has long been common in the U.S. for supermarkets to rent counter space to accommodate small branches of independent local banks. Meanwhile, industry analysts find that supermarkets normally have the better dedication to customer service, while banks are more blatantly profit driven.
They also indicate that supermarkets have a very low cost of customer acquisition since they already serve large numbers of shoppers daily. Walmart already has made forays into financial planning services. It also is reinventing itself as a low-cost banking alternative for low-income individuals who typically utilize expensive check cashing services. Additionally, Walmart already is a principal landlord for national tax preparation franchise firms, most notably H&R Block and Jackson Hewitt.