A Novice Entrepreneur Launches a Successful Coffee Bar and Restaurant
Lessons in Vision and Risk Taking For New Entrepreneurs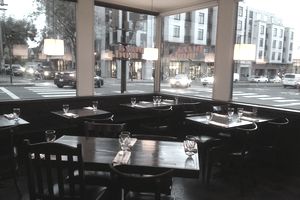 A universal truth for small businesses is that a strategic vision for what you're trying to create synced to a personal life vision is more likely to lead to success and happiness. Read the story of Jeff Davis and his Fellini Cafe and Pizza Moda, two businesses owned by one entrepreneur in Berkeley, CA for inspiration.
Jeff Davis was managing asparagus sales at a San Francisco Bay Area farmers market for a grower when, one day, he noticed just how many people were walking around holding cups of coffee.
Coffee struck this born entrepreneur as a pretty good business. (A lot more coffee addicts than asparagus addicts!)
Curious, he walked over to the coffee cart and asked the owners, two women in their 60s, how they liked the business.
"It's a great business, honey. Want to buy ours?"
It was the year 2000, and Jeff had yet to run his own food business. Opportunity had knocked, and he said YES.
Getting Into Coffee With a Cart
The retiring cart owners trained him in how to run a coffee business. The cart quickly proved to be a smart move, but Jeff soon learned that while he loved the business, the cart was not quite what he was looking for.
In fact, he was experiencing many challenges that other food vendors face at farmers markets and events.
The business was at the mercy of the weather, which affects how pleasant it is to work and the amount of business.
He had to bring his own power into the market (kind of a pain).
Overall, it was hard work for not that much money (not what you want in a business).
Start a Different Kind of Cafe
Jeff knew he wanted to stay in coffee but more with a café that had a farmers market cart model and feeling. His idea was a place where you could walk up, get coffee and a pastry and go, one with an amazing location, convenient for the morning coffee routine.
A spot in Berkeley, CA on busy University Avenue came to Jeff's attention. The property had a Mexican restaurant with an attached a to-go burger joint. The burger place wasn't doing so well, as you might imagine, with those mixed cuisines.
He convinced the restaurant owner to abandon the burger joint and try the coffee bar idea. The agreement was to split the profits instead of paying rent.
Using $15,000 in savings, Jeff built out the coffee bar, which came with ample parking and several tables. The idea worked. The Fellini Coffee Bar attracted both locals and people driving to work.
Taking the Restaurant Leap, Powered by Intuition
A year and a half later, the Mexican restaurant shut down. The owner had a friend who wanted to buy the restaurant and coffee bar — leaving Jeff with the decision to abandon his coffee dream or leap into life as a restaurateur.
The only gotcha: Jeff had never worked in a restaurant beyond bussing and washing dishes. Still, he knew the neighborhood was aching for a good restaurant. His entrepreneurial spirit kicked in, and after driving a hard bargain, he got the restaurant kept the coffee bar.
Much as with his vision for the market-like coffee bar, Jeff had a clear vision for a restaurant: "I wanted to create the kind of place that I wanted to go to.
I'm not such an outlier. I thought other people would want to go to."
This was no small commitment. He invested his own funds in the major remodel, during which he also had to pay rent. Pizza Moda opened in 2003. 
Carving a Niche for the Restaurant 
When the restaurant opened, Jeff had a girlfriend who was vegan. "I remember how difficult it was to get vegan food in restaurants, back before that was a thing," he says.
He developed delicious vegan menu options, which became the main attraction for the restaurant. People would drive from dozens of miles away from the Sunday brunch. "We had so many vegan options that were inspired that vegans could come along with non-vegan family and they would all be happy.
Rather than tap into restaurant consultants, Jeff hired seasoned chefs who brought know-how to the operation.
"I treated the restaurant like a 3-dimensional art project and tried to make it beautiful and delightful….and it worked."
7 Lessons Learned in the Restaurant Trenches
1. Mix the vision for your business with the vision for your life.
You seriously need to be into the day to day operations of your business, in the beginning anyway. Plus, with a restaurant, you'll be there. A lot. (So if you want to take part of the year off, a seasonal restaurant in a resort area could be the right thing!)
2. Have a consistent experience to attract the right customers.
Jeff can quickly name the qualities that he wants to deliver with Pizza Moda. They are all attributes that make for a great restaurant customer experience:
Approachable
Comfortable
Independent design and spirit
Slightly hip, but not pretentious
Dependably tasty, emphasizing organics and seasonality wherever possible
Pizza Moda's physical restaurant design has a lot to do with its success in being approachable and comfortable. The layout is split between two areas and levels. The smaller area is a great nook with about 6 tables,  where parties and groups with younger kids can feel comfortable together and get rowdy.
3. Keep the menu limited. "I was restaurant-insecure and thought you had to offer everything anyone could possibly want," Jeff says. In reality, planning a simple menu might be just what a certain clientele wants.
4. Limited hours can be a good thing. By the end of the third year, the restaurant was open 7 nights a week plus Saturday and Sunday brunch. Jeff decided to reduce the hours, which turned out to work really well for several reasons:
Shorter hours and days builds interest. It's basic supply and demand. More availability means less excitement.
Fewer customers at any one time also mean less energy in the dining room.
Limited restaurant hours and days also leave an owner and staff time for other pursuits — something entrepreneurs with diverse interests should seriously consider.
5. Flexible customer policies make a difference. Why charge to cut a customer's cake when not charging can bring in a huge dinner party? Jeff answers the phone himself and makes sure customers are happy, within reason. For example, he says, "It's not a big deal to take a reservation for 4 when normally we only do for 6."
Great service is free marketing, plain and simple.
6. Watch staffing very closely to manage cash flow. People think wasted food is the biggest restaurant expense. "It's all payroll," says Jeff.  (Anyone thinking of starting up a business should carefully watch what's happening with local minimum wage rates.)
Planning staffing can be challenging, though. "Some nights you have a full staff, and it's a quiet night. It's like having 10 taxis sitting with their meters on. You never know how it's going to be.
Wednesdays can be packed, while Thursdays are slow. It's hard to guess and predict. There might be a game and you think people will pour in, and they don't.
7. Choose the right location:  Berkeley has no shortage of people looking for good food in a convivial atmosphere.
Pizza Moda's clientele includes some people from the neighborhood and an assortment of people who represent Berkeley: "Everyone from grad students, professors, young couples, young families with kids, hipsters on dates, vegan punks, retired couples and out of towners."
It's All in the Mix
When you've got a hankering to get into food, there are so many directions you can take. 
For Jeff, balancing a popular coffee business with an equally popular evening restaurant business has made the perfect formula for an entrepreneur with diverse interests and a community spirit.