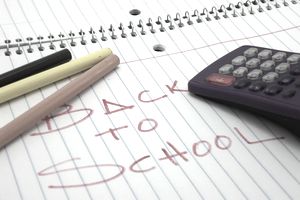 Going back to school tends to bring up a jumble of emotions. Whether you're a parent sending your child off to hit the books or you are a student yourself, excitement at the prospect of learning brings with it a host of questions. Is this the right school? Am I taking the right classes to get the job I want? Do I even need to be in school at all - and how am I going to pay for this anyway?
The concerns are all valid, but they don't have to trump the benefits (and fun) of returning to school.
With a little preparation and planning, you can put yourself on the right path to get everything you can out of your school days and leave those hallowed school halls armed with the knowledge needed to launch the career you want.
Do I Need To Go To School?
 
Why Is Education So Important?
Can education really make or break your career? Why not skip college and head right into the workforce? Andrea Santiago, Expert to Health Careers, discusses the value of education and how a degree can help you both in and out of the office.
Do I Need a Degree to Work in the Music Industry?
Do you have to have a degree to get a music industry job? The answer depends on the career path within the industry that you choose. The matter is actually the subject of much debate - find out what those in the business have to say on the subject and weigh in with your own experiences.
Do I Need a College Degree to Work in the Medical Industry?
If your aspiration is a career in the medical industry, is a degree a necessity? Expert to Health Careers Andrea Santiago offers advice on the importance of a degree for medical industry work and suggests jobs within the industry you can get without a college degree.
Graduate School or Not? Do You Need to Go to Graduate School?
When is an undergraduate degree not enough? Dawn Rosenberg McKay, Expert to Career Planning, helps you navigate the pros and cons and choose an appropriate graduate program.
Training and Development for Employee Motivation and Retention
When you're deciding if additional schooling is a worthwhile investment, it may help to understand how employers can reward continuing education. Expert to Human Resources Susan Heathfield offers the view from the HR department of all of the opportunities for expanded responsibilities and benefits for employees who pursue more education. If these are the kinds of job advancements you are seeking in your company, education may help you get them.
Planning Your Education - How To Choose the Right School and the Right Classes
Preparing for Your First Year of Law School
Avoid the first year law school jitters. Sally Kane, Expert to Legal Careers, has tips to help you walk into your first day of class ahead of the curve.
How do you find a writing class that is a good and comfortable fit for you? Expert to Fiction Writing Ginny Wiehardt offers advice for finding a classroom environment in which you can thrive.
Before You Apply to Music School
Good music business degree programs are more than just business degrees with a music appreciation class thrown in for good measure. Find out how to evaluate your options when choosing which music biz programs should make your shortlist.
Contemplating law school? If so, you likely have many questions. How do I get into law school? What is the curriculum? Which law school is best for me? These resources from Expert Legal Careers Guide Sally Kane can help you in every step of the process, from learning what law school is all about to gaining admission, surviving your first year and more.
If you're eyeing a future in the financial industry, which major should you choose? Mark Kolakowski, Expert to Financial Careers, helps you understand the educational foundation you need.
If you want to be a doctor, you go to medical school. If you want to be a lawyer, you go to law school. If you want to be in advertising you...wait, what do you study? Expert to Advertising Careers Alan Sharavsky introduces you to the many roles within the advertising world so you can figure out which suits you best - so you can choose the classes to match.
Work Experience and Internships
Returning College Students Need More Than Just a High GPA
Find out from Expert Internships Guide Penny Loretto why soaking up as much work experience as possible during school will help give your post-graduation resume such an important boost - and find out how to tap into those work experience opportunities.
Part-time jobs are available for teens, college students, parents, and others juggling school and work. Here's how to find a part-time job, including how to find part-time job listings, how to apply online and in person, and how to ace a part-time job interview, from Alison Doyle, Expert to Job Searching.
Five Ways to Get Music Industry Experience in College
Experience definitely counts in the music biz, but hitting the books doesn't mean putting experience on hold. Learn how to tap into the music community at your college and start learning the ropes.
Internships within the financial industry give you valuable experience and help you build a relationship with a company that could help you land a job in the future. Mark Kolakowski, Expert to Financial Careers, walks you through the process of landing a great internship. 
Information for teens on how to find a job, where to get working papers, where teens can work, what to wear for an interview, and how to obtain references from Expert Job Searching Guide Alison Doyle.
Sally Kane, Expet to Legal Careers, shares advice on landing legal internships, clerkships and clinics.
Online Education
Free Online Courses
Online courses are a great way to advance your education even when spending time on campus isn't practical - and free, well, who doesn't like that? About.com Financial Careers Guide Mark Kolakowski suggests free online financial courses that can give your career a boost.
Tips for Choosing an Online Education Program
Distance learning is one of the fastest growing components of higher education.
Sally Kane, About.com Guide to Legal Careers, lists several important factors to consider in choosing a program.
Virtual Internships
Classes aren't the only things that can be done remotely. About.com Guide to Financial Careers Mark Kolakowski highlights opportunities for financial internships that can be done from a distance.
Paying for School
Spend Less on College Tuition - Five Ways to Save
College is an expensive investment, and any way to save money on tuition is welcome news. Here, Andrea Santiago, About.com Guide to Health Careers, has five solid ways you can shave dollars off of that tuition bill.
Five Sources of Financial Aid for Tuition
Most students need a little outside help footing the bill for their education. Here again, Andrea Santiago shares tips for tapping into resources that can help you finance your schooling.
Back to School Survival for Parents
Back to School Ideas for Working Moms
Whether you're heading back to school or preparing your kids for the end of summer, check out these ideas on establishing healthy schedules, encouraging learning and finding the best back to school deals from About.com Guide to Working Moms Katherine Lewis.
Going Back to Work When Your Kids Start School
Your kids are heading to school - should you head back to work? Dawn Rosenberg McKay, About.com Guide to Career Planning offers advice on making the leap, from logistical concerns to choosing the right career.