Back to School Promotion Ideas to Increase Your Sales
Almost Any Business Can Get In on the Back to School Market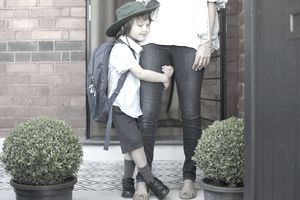 Need back to school promotion ideas? Look no further. Even if you're not selling school supplies or clothing, there are lots of ways you can attract back to school shoppers to your products and services and increase your sales. Use these back to school promotion ideas to help your small business take advantage of one of the biggest retail seasons of the year.
1)Tried and true back to school marketing ideas.
Back to school sales are a tradition now and can work well for you if you sell products that are obviously school related.
Heavily advertising your back to school products in the back to school marketing period is a natural marketing activity for you if you're selling things such as school supplies or clothing.
And there are a lot of services that fit easily into back to school preparation. Hair salons can offer discounted back to school cuts and hair services; concierge/ errand services can offer to do customers' back to school shopping; tutors can promote "early bird" registration.
But just because your small business's products or services aren't directly school-related doesn't mean you have to miss out on potential back to school sales.
If the kids going back to school is going to cause your sales to slump, now's the time for "last chance" sales. For example, a kayak rental business might offer "last chance" lessons and outings; a museum might offer discounted tours.
2) Promotion ideas for a back to school tie-in.
If your products or services have no obvious back to school tie-in, you can still create one.
Stretch your brain and forge the back to school connection such as in these marketing ideas:
Whether selling services or product, a nutrition-related business might offer information on preparing healthy school lunches or even a workshop.
A business selling cleaning products might market its products as great for cleaning dorm rooms and sell a special "studentpak" of products.
A watch repair business might run a "be on time for school" special.
A car detailing business could run a "clean it up for school" promotion.
3) Don't forget the parents.
Don't limit your promotion ideas to kids. Back to school means different schedules for parents, too, and for some, more time to do things for themselves or things they've been putting off.
Personal care businesses, such as hairdressers, manicurists, and massage therapists can offer discounts on "they've-gone-back to school" appointments.
Restaurants could offer special menus and/or dishes to encourage patrons to come in for lunch.
Fitness studios and gyms could offer special workshops or session series in school hours.
The really great thing about targeting students' parents in your back to school marketing is that your promotion can carry on right through September and October if you wish.
4) Be a teachers' pet.
Teachers are another great group to target with your back to school marketing ideas if your products or services are appropriate. Many of the ideas that apply to parents will also work for teachers. Here are a few more:
A car detailing business could offer a special package for teachers only.
An educational supply store could offer teachers memberships or discount cards.
A restaurant could offer teachers only a free dinner entrée during the first month of school.
A hair salon could offer teachers special discounts on services for a limited time.
Get Your Back to School Marketing Ideas Thinking Cap On
I've truly only scraped the surface of back to school promotion here - the only real limit is your imagination. Think about your target market, how back to school impacts their lives and how your products or services could fit in to get your back to school marketing campaign started. The back to school retail season is such a lucrative market that you definitely want your small business to get a piece of it.
And if you're looking to start a business to take advantage of the back-to-school season, read Small Business Ideas for Making Quick Money in the Fall.