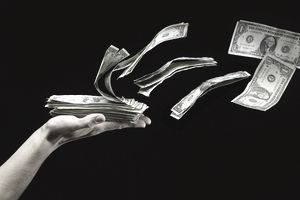 Now that you've decided to meet with a bankruptcy lawyer about your stressful financial situation, you've no doubt been researching to learn about the process and what you can expect. This is a big decision. Your attorney will guide you along the way to make the process as stress free and efficient as possible.
There are, however, some sure fire ways to derail your journey to a more stable, less stressed, financial future.
Avoid these costly mistakes if you want your case to run as smoothly as possible. Otherwise, you could lose the benefit of the discharge you worked to hard to obtain, or worse. You could be fined and/or sent to federal prison.
1.  Charge up your credit cards right before you file bankruptcy.
This doesn't work. In bankruptcy, you may not be able to discharge items defined as luxury goods or services if you incurred the charges within a short time before filing your case. This applies to cash advances, too. Read more at Discharging Debts: Debts That May Be Discharged.
2.  Sign your paperwork without reviewing it, or sign your paperwork even if you know it contains inaccuracies.
You have to file a lot of paperwork with the court detailing your assets, debts, income and expenses. You are required to sign these schedules and other documents under penalty of perjury. That means that if you lie, you can lose your discharge, lose your future assets and lose your freedom.
Neglecting to review your schedules before signing them can be the same as lying.
3.  Give your attorney false information or hold back information about your financial dealings, assets, debts, income or expenses.
Some debtors hire the attorney who tells you what you want to hear. We've all had to tell a potential client that he will have to disclose that he owns stock in American Airlines, only to learn later that he hired another attorney and failed to list that asset in his schedules.
A serious breach of the law.
4.  Miss your meeting of creditors.
Every debtor must attend what is called a meeting of creditors. If you can't go in person, contact your attorney. You may be able to attend via telephone. I've had clients away on business, moved to another state, in another country, on military deployment, and even in jail attend their meetings by telephone.
5.  Ignore the trustee's requests for additional information.
I know. You've already provided lots of information, facts, figures, paperwork and documents to your attorney. But your trustee may still have questions, or he may be entitled to non-exempt assets. If you get in his way so that he cannot do his job, you'll lose your discharge and can even be prosecuted.
6.  Conceal assets.
This is the most prosecuted bankruptcy crime. If you fail to disclose assets, or transfer them away before or during the bankruptcy with the intent of preventing your creditors from satisfaction, or make them difficult for the trustee to access, you can go to jail, be fined, or both.
7.  File multiple cases, one after another.
Some people attempt to thwart the system by filing a case to stop some creditor action, like a foreclosure, then dismiss the case.
When the foreclosure comes up again, here comes another bankruptcy case. Having gotten wise to this, and to protect the interests of creditors when debtors file serial cases, the bankruptcy law now limits how and when the automatic stay comes into effect in each case. See How Long Does the Automatic Stay Last? 
8.  Bribe a trustee, a judge or a court official.
Need I say more?
9.  Ignore creditor attempts to collect debts after you file.
A creditor's attempt to collect a debt after you file your bankruptcy case could be an innocent mistake or it could be a well planned attack despite the bankruptcy code's automatic stay, which is designed to prevent overreaching by creditors. Your attorney can help you stop the harassment, and may even be able to help you collect damages from the offending creditor.
10.  Forget to take your debtor education course.
Every debtor in a Chapter 7 or a Chapter 13 case is required to take a debtor education course before the discharge is issued. If you fail to take the course, the court will close your case without the discharge. You will then be required to pay a fee to the court and probably an extra fee to your attorney to have the case reopened so that you can take the course and receive your discharge.
11.  Ignore your credit report after your discharge.
Many debtors believe that their credit reports are abysmal after bankruptcy. That is not necessarily so. In fact, you should be monitoring your reports to make sure your creditors report their debts correctly. This will help ensure that your credit report, and therefore your credit score, are accurate. See more at Is Your Credit score Important After Bankruptcy?
12.  File again as soon as you're legally allowed to file.
Some people file bankruptcy every ten years or so. In fact, some corporations have filed several Chapter 11 cases in order to reorganize their finances. It might work for you if you're a high-dollar business person who lives for risk, boom and bust. But for the average Joe and Josephine, it can make life very difficult. You will never seem like you're back on your feet. 
When you file your case, you're given lots of tools with which to start afresh. Take advantage of them, especially your your debtor education class, learn from it and put those principles into practice. They will serve you well in the future.