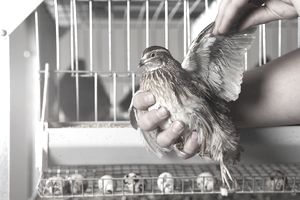 There are many internship options available for those seeking to gain experience in working with birds. Here is a sampling of what the industry has to offer to students hoping to purse careers as ornithologists, aviculturists, rehabilitators, avian veterinarians, or researchers:
The Kellogg Bird Sanctuary (in Michigan) offers an avian care internship program to college juniors, seniors, and recent graduates with a degree in biology, zoology, pre-vet, or a related area.
Summer avian internships last ten weeks, but spring and fall interns must commit to a 22 week program. Interns are involved with the care of captive birds, glove training raptors, presenting educational programs to visitors, assisting with bird counts, and completing research projects. The internship provides housing, a stipend of $180 per week, and work-related transportation. College credit is available.
The Archbold Biological Station (in Florida) offers an avian ecology internship. Interns trap wild birds, band birds for identification purposes, monitor nests, take blood samples, observe and document behavior, collect and analyze research data, and present their study findings. Internships run over the six month period from February to July. A stipend, housing, and meals are provided. College credit is possible.
The Teton Raptor Center (in Wyoming) accepts interns for three month sessions.
Interns must be at least 21 years old and either have a college degree or be working towards completion of one. Interns have the opportunity to work with various birds of prey including handling, feeding, enclosure maintenance, presentation of educational programs, and assisting with rehabilitation.
A stipend and housing are provided, and educational credit can be arranged by the student with their college or university.
The Hawaii Endangered Bird Conservation Program offers internships at two locations: the Keauhou Bird Conservation Center (on the Big Island) and the Maui Bird Conservation Center (on Maui). Students work with rare Hawaiian birds with duties including feeding, habitat maintenance, behavioral observation, and more. Internships last from 3 to 6 months. Interns receive free housing and a $20 per day stipend.​
The Point Reyes Bird Observatory (in California) offers internships year-round in a variety of locations. Palomarin Field Station internships focus on the study of songbirds with duties such as nest searching, banding, and netting. These internships have and $800 per month stipend. Southeast Farallon Island internships focus on seabirds, with no stipend, but room and board is provided. Northern Spotted Owl Monitoring internships focus on monitoring owl nesting patterns, behavior, and population surveys. A stipend of $1200 per month is offered.
The Institute for Bird Populations offers MAPS (Monitoring Avian Productivity and Survivorship) internships from May through August in parts of Indiana and Yosemite National Park in California.
Interns gather field data and are involved with netting, handling, banding, and determining age and sex of birds. Students receive free housing and a per diem of $24-30 ($2016 to $2520 for the season).
The U.S. Fish and Wildlife Service (in New Jersey) offers an internship focused on coastal nesting birds at the Edwin B. Forsythe National Wildlife Refuge. Interns take population surveys, monitor nests, perform data entry, and educate the public. During the course of the internship students may use kayaks, canoes, and other small watercraft. Free housing and a work vehicle are provided, as well as a stipend of $181.50 per week.
The Pocono Avian Research Center (in Pennsylvania) offers spring, summer, and fall avian ecology internships. Interns are involved with netting, banding, handling birds, and creating a project for presentation.
The fall internship coincides with the migration study known as Project Owlnet, with students capturing, banding, and releasing Northern Saw-whet owls over their six week migratory season.
The International Crane Foundation (in Wisconsin) offers a six month aviculture internship. Interns at ICF work with a flock of approximately 100 cranes representing each of the 15 species. Duties may include feeding, handling, behavioral observation, chick rearing, and other management activities. A stipend and housing are provided.
The National Audubon Society (in Connecticut) offers internships that focus on the care of birds of prey, songbirds, and waterfowl. The society treats approximately 300 injured birds each year. Intern duties may include evaluating and treating injuries, handling birds, hand feeding orphaned chicks, and assisting the vet with general exams. No stipend is available but furnished housing and utilities are provided.
Additional avian-related possibilities can be found through an online keyword search or checking some other related internship pages on this site: wildlife rehabilitation internships, animal behavior internships, zoo internships, or pre-veterinary internships.