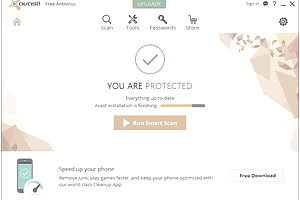 avast! Free Antivirus from AVAST Software is one of the best free antivirus software programs you can download.
avast! is so great because it's a complete tool, protecting you from threats from the Internet, email, your local files, P2P connections, your instant messages, and more.
Important: avast! Free Antivirus provides constant virus protection, also called on-access or resident protection, for free.
This means that avast! Free Antivirus can completely replace antivirus software from companies like McAfee and Norton that charge for their software and for yearly access to updates.
Download avast! Free Antivirus
Pros
Provides on-access protection from viruses and other malware
Includes a "heuristics engine" to detect previously unknown threats
Includes a silent mode to hide alerts during gaming and other full-screen activities
Very easy installation
Long history of excellent virus protection
Works with Windows 10, 8, 7, Vista, and XP
Cons
Can not be used in commercial environments (home use only)
May attempt to install unrelated (but safe) software
Registration is periodically required but it is free
May show advertisements within the program
Description
avast! Free Antivirus includes fully functional antivirus, antispyware, and heuristics engines
Includes real-time protection of files, email, web surfing, P2P transfers, instant messages, and even suspicious behavior
Windows 10, 8, 7, Vista, and XP are all supported operating systems for avast! Free Antivirus
Yearly registration is required to continue use
Scans browser plugins to find installs that have a poor reputation and may be malicious
The Home Network Security feature can scan your network to find infections and vulnerabilities, such as identifying routers that are using default passwords and checking if your network is accessible from the Internet
avast! Free Antivirus regularly updates malware definitions and the program itself to stay current against new threats
My Thoughts on avast! Free Antivirus
avast! Free Antivirus has been around a long time and is overall an excellent free antivirus program. It includes just about everything you'd ever want from an antivirus program, free or otherwise. avast! Free Antivirus is a the only antimalware tool you need on your Windows computer.
Tip: During the avast! installation, you may be asked to install the free Google Chrome browser and IE toolbar. These additions are not required so if you're not interested just uncheck the boxes. Also, you are required to register avast! to use it more than 30 days but registration is free and pretty simple. You'll also have to reregister once per year - again, for free.
Important: Some users have stated that avast! Free Antivirus is not free or it's not being a truly complete antivirus program. That's simply not true. avast! Free Antivirus is a complete antimalware tool. The only additional benefits you get from purchasing "Pro Antivirus" or "Internet Security" from avast! are firewall, privacy, and spam protection, which you can get from other programs, for free ​if you want them.
Download avast! Free Antivirus