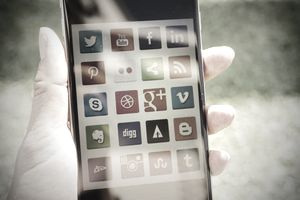 There are many social media platforms and the number is increasing every day with "hybrids" (like Medium and Wattpad, which combine writing and sharing) and platforms geared to special interests (like Goodreads for readers). 
Social media platforms for authors
Here are the major social media platforms and their advantages to authors. If you're new to social media, read more about best practices and etiquette.
Facebook
Facebook accounts fall into two categories, each with distinct advantages to authors.
Facebook Personal Account - Your personal Facebook account is really helpful in spreading the word about new books, interviews, etc. to friends and relatives and former colleagues and former classmates and other valuable "insiders" in your life. These are presumably the people who should be "in your corner" personally. Facebook friends tend to love being in the know about what you're doing and can be very supportive. That said, being overly self-promotional to them is a huge turn-off so read this article on best social media practices, especially the part about "sharing," not selling.
Author Facebook Page - Many authors choose to have a Facebook "page" in order to present a professional writer self to the world, and to allow a broad community to weigh in. Having a Facebook page (rather than allowing your readers to "friend" you) helps keep some distance between you and those who, let's face it, you don't really know. Note that Facebook pages are not an effective substitute for an author website. You absolutely need an effective author website, too.
Twitter
One of most used and useful social media platforms, Twitter is fantastic for its truly immediate connection to writers, booksellers, publishers, editors, literary agents, as well as its instantaneous access to news both major (world events, politics) and niche (hobbies, actors, etc.).  Twitter is great for both building community and researching topics and markets.
Read more about promoting your book on Twitter and Twitter hashtags that are useful to authors.
Pinterest
This image-centric social platform is fantastic for lifestyle and how-to – the place to put recipes and crafts, pets and sports and nature… It's like a glossy magazine with "articles" geared to your interests. It's easy to "re-pin" content you love; posting your own content means your content must have a home-base (like a website) and, unless you pay for rich pins, you'll have to take care to add your own keywords and links.
Instagram
This popular site features photos – and offers the opportunity to edit, crop, filter, etc. Like Twitter, it uses hashtags to aid discoverability – but it's appeal is its ease of use and the fact that it lends itself to "behind the scenes" shots – low pressure and fun for authors who are new to social media.
Tumblr
A hybrid of a web / blog / social platform, Tumblr is the favored "home" of many bookish folks — librarians and libraries, booksellers, book gurus, and authors (for example, Neil Gaiman and Veronica Roth, who is author of the Young Adult Divergent series. Easy to use and compatible with other social media.
Goodreads
Owned by Amazon.com, Goodreads is a social media site for readers — but for authors, it's a great way to connect with existing readers and potential readers.
Like any social media platform,
Read more about Goodreads and specifics about how to promote your book on the Goodreads site.
Medium
Founded by the progenitor of Twitter, this social media-writerly community hybrid platform allows writers to post essays and "socialize" them to followers on the site, as well as to friends and followers on other platforms. Bestselling author Jon Krakauer is a regular contributor, Linda Fairstein and other venerated writers have made appearances.
Wattpad
Wattpad is a social-writerly hybrid, but for fiction writers — including Margaret Atwood. Wattpad encourages its members to write a chapter at a time and post for the enjoyment and critique of their like-minded community.
LinkedIn
LinkedIn is useful for business book authors as it has the potential of not only connecting with affiliated people and groups, but posting your content to gain eyeballs and interest in what you're working on as part of a content marketing strategy.
Google+
Google+ offers access to many communities with specific interests. Authors can post to their like-minded community areas, to try to build audience.