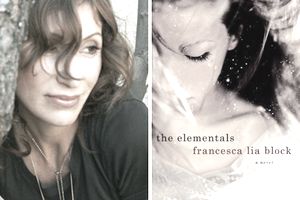 Francesca Lia Block is the author of more than twenty-five books of fiction, non-fiction, short stories and poetry. She received the Spectrum award, the Phoenix award, the ALA Rainbow Award and the 2005 Margaret A. Edwards Lifetime Achievement Award, as well as other citations from the American Library Association to the New York Times Book Review, School Library Journal and Publisher's Weekly.
Her most well-known novel, Weetzie Bat, was written when she was a young adult herself, attending college at UC Berkeley.
You can view all of her novels on her Amazon page, here.
Q: Something that really catches my attention when reading your novels is your ability to develop adult themes within a young adult environment, yet your work doesn't seem to "fit" into just one category. What are some tips for writers trying to do the same, and keep their writing out of a singular "mold"?  
Francesca Lia Block: I never write for a genre. I don't consider many of  my "young adult" books as YA, and some of my adult books are widely read by teens. I think you just have to write the best possible story that you feel driven to write and not worry about categories that are imposed on books by the publisher for marketing reasons.

You use a lot of sensual imagery when depicting setting in your pieces, especially when it comes to the city of Los Angeles. What has been your inspiration?
I grew up here (LA) and have lived here all my life.
As a writer I am inspired by the dichotomy of the city—what I refer to as the "Pink Smog Effect."  Beautiful skies that are the result of toxins, poisonous flowers, the Hollywood sign as a symbol of stardom and suicide. The darkness and light create an amazing tension. I consider L.A. a character in my books.
Some would deem your work "controversial," especially when it comes to themes dealing with sexuality and younger people engaging in sexual acts. How did you come to this subject matter?
I didn't really choose to write about them to shock anyone; I was just telling my personal truth. The issues arise when a publisher chooses to publish books for a certain audience. Some of my books are too sexual to be published as YA: Nymph and Beyond the Pale Motel for example.
People have said that your novels fall under the genre of magical realism, as a majority of them include folklore and fairy tales. What made you interested in this genre of writing, and how did you come to combine the genre with current issues?
I like to use myths, folk tales and fairy tales in both my adult and young adult books because I was raised on these stories. My father told me The Odyssey as a bedtime story. All these classic tales hold so much truth and so many secrets. They will always be relevant. I find them even more impactful when mixed with contemporary life.
I know that you started writing at a young age. Do you think this had an impact on the themes you are passionate about? If so, how?   
I wrote poems since I could write letters, practically.
I was encouraged by my parents. I don't know if this early interest changed any of my themes but it certainly helped me feel comfortable with the act of writing.  A theme I often come back to is how writing heals, and perhaps I learned this from these childhood explorations, but this theme also manifested throughout my life.