Attorney Finds Fulfillment in Leadership Role in Washington
Spotlight on Attorney Gordon Tanner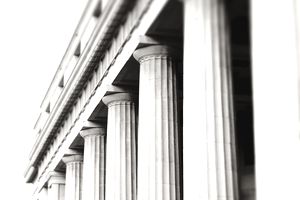 Gordon Tanner is an attorney and veteran of the Air Force who currently serves as the Air Force General Counsel. He has had both active duty and civilian roles in the Air Force and is passionate about leadership. Gordon earned his bachelor's degree in Political Science from the University of Alabama and his JD from Vanderbilt University School of Law. He then went on to serve in the JAG Corps as an active duty officer in the Air Force.
Since then, he has held positions both in law firms and in the Air Force Reserves  and has spent his last fifteen years working exclusively with the Air Force as part of their General Counsel team.
Here is some insight into Gordon and the work he does as the General Counsel for the Air Force.
1. What did you want to be when you were a kid? Did you always want to be a lawyer?
I had no idea what I wanted to be when I was a growing up. I did know that I wanted to be a leader in some field. Public service was important to me from an early age. I knew that we were put on the earth to do more than make money (or spend it). My parents, church, and community taught me the importance of leaving a place better off because you were there. I believe that about our country as well. For me, it was important to make a difference. It wasn't until college that I realized that being a lawyer could create those sorts of opportunities.
This time of discernment continued even in law school. Many of my classmates seemed very certain of their career path and legal specialties. Not me. Law school was a time to consider the full array of opportunities that law practice offered and to choose the ones that most closely reflected my personal goals.
2. Was it always your plan to join the military?
No. My first experience with the military was through ROTC, a required course for my first two years in college. While a ROTC member, I competed for and received a full scholarship—which came with a four-year active duty service commitment. I served as an active duty Air Force lawyer and officer for those years. Afterward, I chose to remain in the part-time Air Force Reserve as I entered private law practice with a large law firm headquartered in the southeastern United States.
As both a uniformed and civilian Air Force lawyer I have been deeply honored to work with uniformed service members across the world who put their lives on the line every day to preserve our freedoms.
3. You're the Air Force's General Counsel. What does that mean, exactly?
The Air Force General Counsel is a Presidential appointee, requiring Senate confirmation. The General Counsel is both the chief legal officer and chief ethics official of the Air Force. Like other lawyers, the Office of the General Counsel serves its client, the Department of the Air Force, by providing its members with actionable, candid, and independent legal advice and counsel, effective advocacy, and creative problem-solving, in furtherance of the Air Force mission to "fly, fight, and win in air, space, and in cyberspace." As General Counsel, I supervise approximately 1,500 lawyers around the world engaged in specialty practices from acquisition law to space law.
It's also important to understand that the General Counsel is included in the most senior-level policy discussions in the Air Force. The "critical thinking skills" that we learned in law school are as important in making sensitive national policy decisions as in providing articulate legal advice.
4. What's a typical day like for you?
As with most lawyers, there is no typical day. That being said, my day always starts with the classified security briefings on world events over the preceding 24 hours. I then review the major daily print and social news media for items related to my work. I spend a good deal of time each day meeting with senior Air Force leaders – both civilian and uniformed – as we develop policies to enhance the lives of our airmen and their families, balance readiness for the fight today with our preparation for the challenges of the future, and finally to ensure that we are making every dollar count for the benefit of our nation and its taxpayers.
My schedule often includes meetings with members of Congress and the Senate to discuss pending legislation affecting the Air Force as well as matters concerning Air Force funding and policy requirements. Finally, I travel across the world to talk with our airmen and their families to make certain that we're doing our best to provide the support they need to do their jobs.
5. What are you currently reading?
Hidden History—The Secret Origins of the First World War by Gerry Docherty and Jim Macgregor. This book sets out one theory of the historical and social movements and figures who set into motion the forces that unleashed World War I. Many of the current Mideast conflicts have arisen from the way that region was divided and organized into nation-states after World War I. The origins of World War I and its consequences affect us now far more than I had realized.
6. What advice would you give to young lawyers or law students?
First, watch out for debt. If you have student loans or other debt, pay it off as quickly as you can. I know too many young lawyers who are forced to take jobs they don't want simply because they are deep in debt and bound by "golden handcuffs." Get your financial house in order so that you can have the choice to do what's important to you.
Once you have your financial situation under control, don't put off the chance to do the important things in your life. While we are all surrounded by social pressure to act in certain ways or do certain things, it's your life—and you're in charge of it. Claim it. The cliché "life is not a dress rehearsal" is completely true. If you don't seize opportunities and focus on your goals now, you may well find that you put off following your dreams too late—and that they will never be achieved.