Attorney Finds Passion as Immigration Law Advocate
Spotlight on Attorney Diana Coker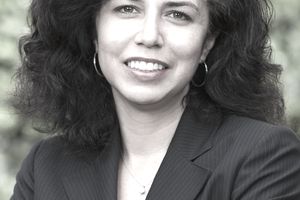 Diana Coker is a San Diego attorney who practices immigration law. She is a partner with Larrabee Albi and Coker LLP and finds the practice of immigration law rewarding on many levels. Whether she is strategizing with a company regarding the immigration impact of a merger or explaining our complex immigration system to an individual seeking to make the U.S. their permanent home, she appreciates the challenges in our legal system and the real lives impacted by the immigration process.
Diana understands her role as an attorney is not only to secure a specific immigration outcome as efficiently as possible but also to advise employers and individuals so they understand the process and feel empowered as a result.
Diana is an AV® Preeminent™ Peer Review Rated* attorney whose practice includes a broad range of business immigration matters including hiring and retaining foreign national employees, implementing overall immigration policies and procedures, and compliance matters such as I-9 and LCA mock-audits and trainings. Her clients are from a variety of industries and include multinational corporations, start-ups, hospitals, educational institutions as well as individuals.
As a daughter of an immigrant, she has seen first-hand the real-life impact our immigration laws have on families and our community. She frequently speaks with members of Congress and their staff regarding immigration issues and has served on a grassroots taskforce to advocate for positive change.
Here's a look at Diana and the work she does in the immigration law field, and why she's passionate about her work.
1. Why did you decide to go to law school (and where did you go), and become a lawyer?
I knew from a pretty young age that I wanted to be an attorney. Issues of social justice were important to me and the idea of fighting the good fight was very appealing.
By the time I was in college, I knew that law school was the next step in my academic path. I was drawn to the critical thinking, research, and writing of the legal profession. But I also wanted the human interaction that comes with helping people through the legal process. I decided to attend American University's Washington College of Law. The law school had a practical approach in preparing students to become lawyers and an international focus that included immigration law.

2. Why did you choose your practice area? What about it excites you?
My father's family immigrated to the U.S. from Belize back in the 60s and 70s. I grew up hearing the stories of no-good immigration attorneys who were quick to take your money and slow to produce results. I wanted to change that perception and help immigrants create new lives for themselves and their families in the U.S. In law school, I took every immigration course available and worked as a law clerk for a notable immigration law firm. My interest in the field was cemented. 
Once I began practicing, my focus in the field narrowed to employment-based immigration. I love the strategy that is involved with employment-based immigration. I find myself doing mental cartwheels all day long.
I enjoy figuring out the best visa options available both for the foreign national and the company while taking into consideration the realities of the immigration system.  I equate what I do to three-dimensional chess. There are many moving pieces that all factor into how I advise my clients. 
I also appreciate that immigration law is constantly changing. I am learning something new every day. But most importantly, I really enjoy the human aspect of immigration law. It has been said that our immigration laws are only second in complexity to the U.S. tax code. Being able to explain the immigration process to an individual and help them navigate this incredibly complex system is definitely rewarding. Needless to say, the immigration process can be extremely stressful for individuals. My goal is not only to have the case approved, but to reduce the stress involved and empower my clients with information about the process.


3. Tell me about the work you do in your immigration law practice. What are some of the most common problems and issues you face in this practice area?
Employment-based immigration law is a transactional practice. But it involves so much more than just completing forms. Much of my time is spent strategizing about which visa option is the most beneficial and how to strengthen a case or a particular argument to secure an approval. Educating my clients about the process is another big component of my job. Having clients understanding the immigration process helps in setting realistic expectations and reducing anxiety.
Dealing with the various government agencies involved with the immigration process can be a challenge.  In this practice area, we interact with the Department of Labor, U.S. Citizenship and Immigration Services, Customs and Border Patrol, Immigration and Customs Enforcement, and Department of State. Governmental delays and constant changes in policies or procedures are a reality in this field.    
4. You have advised clients during the rise and fall of the dot-com industry; during the aftermath of 9/11; during and after the 2008 recession; and during periods of frantic hiring and massive layoffs (per your website). How does immigration play a role in those major historical events?
During the rise of the dot-com industry, there was a massive need for high-tech workers.  Companies were looking all over the world for a talented workforce. Congress recognized companies' need for high-tech labor and increased the numbers of H-1B visas for specialty occupations as a result. Employment-based immigration attorneys were extremely busy during this time trying to keep up with the incredible demand for high-tech labor. When the dot-com industry fell, employment-based immigration was significantly impacted. Companies were no longer hiring and thus did not need to obtain talent from abroad. I spent my time advising companies about the immigration impact of layoffs or of selling off the company.
During the aftermath of 9/11, the nature of our immigration practice changed. The Department of Homeland Security (DHS) was created and INS was broken out into three separate agencies. Our immigration system became focused on fighting terrorism and DHS implemented programs to register and monitor individuals from certain countries. In addition, many immigration cases underwent lengthy delays while prolonged security clearances were being completed. It was definitely a perplexing time for immigration attorneys.
As for the 2008 recession, employment-based immigration attorneys definitely felt the impact.  Employment-based immigration is intricately tied to companies hiring and retaining foreign workers. When there is a downturn in the economy, hiring slows and reductions in force become common. Our firm focused on advising companies regarding how to mitigate the harsh immigration consequences of a reduction in force. As we are climbing out of the recession, employers are looking once again to hiring the best talent from around the world. While it isn't at the level of the dot.com boom, we are seeing a steady rise in the need for foreign workers who have the necessary skills to help companies succeed.    
5. What else do you want to add about you, your practice, or advice for young attorneys?
I think it is important to keep yourself open to new opportunities. Over the last several years, I have had the wonderful opportunity to lobby members of Congress regarding immigration reform. When I started my career, I didn't think that lobbying would be a part of job as an immigration attorney. However, I definitely enjoy researching immigration legislation and explaining how such legislation would impact foreign nationals, their families, and the U.S. economy.
As for advice, I believe it is important to gain quality experience as a young attorney. While there may be financial pressure to accept a certain type of job, I think it is better to work in an environment where you will be mentored and are able to gain the necessary foundation in your field (even if that means less pay in the beginning).