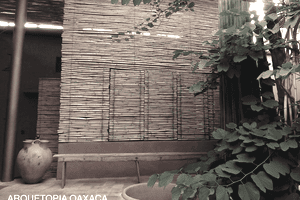 Arquetopia International Artist Residency was established in 2009 in Mexico.
As of 2014, the artist-run art residency for visual arts and music has two locations: one in Puebla, one in Oaxaca.
"Arquetopia's Artist-in-Residence Programs offer important professional opportunities for emerging and mid-career, national and international contemporary artists, designers, curators, and art educators age 25 and over."
Mission:
"Arquetopia's programs promote development and social transformation through contemporary art with a non-traditional, culturally diverse and multidisciplinary approach."
Location:
Arquetopia is located in Puebla, Mexico, which is a "UNESCO World Heritage Site that lies 136 km (84 mi) southeast of Mexico City" and in Oaxaca, Mexico, located 450 km (280 miles) southeast of Mexico City in a valley in the Sierra Madre mountain range of Southern Mexico.
Studio Facilities:
According to Arquetopia's website:
"Roomy indoor and outdoor art studio are provided with personal work space, large tables, tools, basic materials and supplies. In cases where a specific technique, space and/or materials are not available for a proposed project, our foundation will work with the artist and community on alternatives that will suit the work. Access to special facilities (such as the printmaking or ceramics studios) is also provided depending on the chosen technique."
Living Facilities:
Arquetopia's artists in residences are provided with daily meals, and furnished rooms with private bath.
Application Process:
Refer to Arquetopia's website to find out the available dates and how to download an application form.
"Projects addressing social issues involving the community in the process of creating cutting-edge work with a nontraditional approach on traditional techniques will be given priority."
Complete and submit the Arquetopia Artist-in-Residence Online Application Form, following the instructions on the web page. Following selection, applicants are notified immediately via e-mail.
Length of Residency:
A residency is 3 weeks to 6 months long.
Funding:
Check Arquetopia's website for the current list of fees.
"The residency program fee covers the costs of our facilities, a small staff, utilities, typical art materials and supplies, meals, and housekeeping. For the Special Instructional Residencies we offer, the instruction our residents receive from the master artists we contract –many of whom are local and indigenous artists from the poorest communities– is also funded directly from the residency program fee."
Contact Info:
Arquetopia, Privada 18 B Sur No. 4550, Col. San Manuel, 72560 Puebla, Puebla, Mexico, Tel: (+52) 222 594 7728
Email: info@arquetopia.org
Arquetopia, Fundación para el Desarrollo
Oficina Central / Headquarters
Privada 18 B Sur No. 4550
Col. Unidad 22 de Septiembre
Puebla, PUE  72560  MÉXICO
Tel. (+52) 222 594 77 28

Arquetopia Oaxaca
Porfirio Díaz No. 507-A
Col. Centro
Oaxaca, OAX  68000  MÉXICO
Tel. (+52) 951 516 34 25
Further Info:
Fine Art interviewed Francisco Guevara, one of the co-founders of Arquetopia.
Read what he has to say about how to establish an artist residency, and what artists can do to maximize their chances to be accepted into an artist residency.