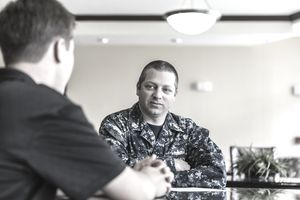 ST. LOUIS -- The Active-Guard-Reserve program has seen an increase of approximately 300 new assignment opportunities during this fiscal year.
The increase comes as a result of ongoing efforts to add more full-time support to Army Reserve units, officials said. About another 975 positions will also become available during this fiscal year through normal attrition, according to officials at the Army Reserve Active Duty Management Directorate in St.
Louis.
"The AGR program is absolutely vital to the training and readiness of our units," said the chief of the Army Reserve, Lt. Gen. James R. Helmly. "AGR Soldiers are now deployed in Afghanistan, Iraq, and around the world as an essential part of our Army, enabling mission accomplishment and executing important missions on behalf of the nation.
"We will continue to grow the AGR program with the required skills necessary to transform the Army Reserve while at war, enabling a greater level of readiness, agility and responsiveness," he said. "We need the best and brightest as AGR Soldiers and I encourage all who are interested to apply and join the ranks of our AGR Soldiers."
AGR Soldiers serve in full-time, active-duty positions in worldwide locations. They provide day-to-day operational support needed to ensure Army Reserve units are ready to mobilize when needed.
The program, begun in 1979, provides AGR Soldiers with the same benefits as their counterparts in the active Army.
This includes active-duty pay and allowances, medical care, commissary and PX privileges and a full retirement after 20 years of active federal service.
In addition to a wide range of assignment locations, the AGR program also offers officers, warrant officers and enlisted Soldiers the opportunity to serve in a variety of fields including transportation, human resources, military intelligence, finance, medical service and recruiting.
The AGR program is open to Soldiers who serve in the Army Reserve, the Army National Guard and the active Army. To download an application packet, Soldiers can visit the AGR portion of the U.S. Army Human Resources Command Website at https://www.hrc.army.mil/​ or call the command's communication hub at 1(800) 318-5298.