Army Field Manuals- Physical Fitness Training
Army Field Manual 21-20: Superseded by the FM 7-22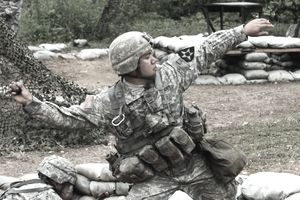 There is a new Army Field Manual for Physical Fitness. The U.S. Army FM 21- 20 Physical Fitness Training has been superseded by FM 7-22  as of October 2012.
The language in the original FM 21-20 is with the same goals in mind as the updated FM 7-22 however the approach the achieving physical performance goals within the Army is different:
The FM 7-22 Approach:  "Military leaders have always recognized that the effectiveness of Soldiers depends largely on their physical condition.
Full spectrum operations place a premium on the Soldier's strength, stamina, agility, resiliency, and coordination. Victory—and even the Soldier's life—so often depend upon these factors. To march long distances in fighting load through rugged country and to fight effectively upon arriving at the area of combat; to drive fast-moving tanks and motor vehicles over rough terrain; to assault; to run and crawl for long distances; to jump in and out of craters and trenches; and to jump over obstacles; to lift and carry heavy objects; to keep going for many hours without sleep or rest—all these activities of warfare and many others require superb physical conditioning. Accordingly, this chapter links Army Physical Readiness Training (PRT) to Army Force Generation (ARFORGEN)."
FM 7-22 is very much like the new FM 21-20 as it is directed at leaders who plan and conduct physical fitness training. It provides guidelines for developing programs which will improve and maintain physical fitness levels for all Army personnel.
These programs will help leaders prepare their soldiers to meet the physical demands of war. This manual can also be used as a source book by all soldiers. 
The methodology behind the new version is to grow the Army Soldiers through the following phases:

1 - Initial Conditioning Phase - Future Soldier Program, Recruit Training will take a recruit and progressively build them up in preparation for Basic Training or Commissioning Training.
 At Basic, the recruit will continue to build a foundation of fitness, learn the basics of being in the Army, and adhering to standards set by the military with regard to height, weights, physical ability.
2 - Toughening Phase - Toughening phase develops essential skills associated with critical Soldier tasks such as jumping, landing, climbing, lunging, bending, reaching, and lifting. Physical readiness improves through progression in these activities. The toughening phase occurs during IMT, basic combat training (BCT), one station unit training (OSUT), and Basic Officer Leader Course A (BOLC A).
3 - Sustaining Phase and Integration Into Unit - Prepare to Deploy, Deploy, Redeployment.  In this phase, activities become more demanding. Exercises, drills, and activities such as advanced calisthenics, military movement, kettlebell, and other lifts are performed with increasing resistance. Endurance and mobility activities such as foot marching, speed running, and sustained running increase in intensity and duration. Activities that directly support unit mission such as individual movement techniques, casualty carries, obstacle courses, and combatives are integrated into PRT sessions. 
The Mindset Behind the FM 7-22

"The FM 7-22 provides Soldiers and leaders with the doctrine of Army PRT.
It is a product of the Army's history, forged out of the great battles from the past to the present. Its doctrinal concepts also reflect emerging trends in current physical culture. This FM will impact the Army in a manner of importance toward the continuation of our national strength and security. The purpose of Army PRT is not merely to make our Soldiers look fit, but to actually make them physically ready for the conduct of full spectrum operations."  (Summary of FM 7-22)