Army Enlisted Job Descriptions And Qualification Factors
Army Jobs for Non-U.S. Citizens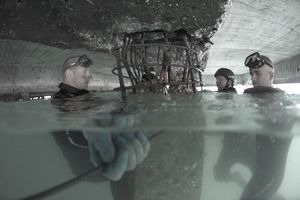 You CAN join the United States military as a non-citizen, however, you will have to be a Green Card / visa holder and legally living inside the United States or its territories. 
Current Army regulations prohibit granting a Security Clearance, to non-U.S. citizens. Additionally, some Army jobs may only be performed by U.S. citizens, regardless of Security Clearance requirements. There are many jobs in the military that require a security clearance, such as Special Operations, Armor, Air Defense Artillery, Military Police, Intelligence, Chemical, Biological, Radiological, and Nuclear Specialist as well as the Officer Corps.
 These are the types of jobs that require Secret to Top Secret Security Clearances that only citizens may hold.
However, if a legal non-citizen joins the military and naturalizes to become a citizen of the United States, he/she will be able to obtain any job in the military that they qualify for and be granted security clearances if required. 
Below are Army jobs that can be performed by Non-U.S. Citizens:
00B - Diver
02 - Band Member
02S - Special Band Member
11B - Infantryman
11C - Indirect Fire Infantryman
11H - Heavy Anti-Armor Weapons Infantryman
11M - Fighting Vehicle Infantryman
12B - Combat Engineer
12C - Bridge Crewmember
13B - Cannon Crewmember
19D - Cavalry Scout
19E - M48 - M60 Armor Crewman
19K - MI Armor Crewman
25M - Multimedia Illustrator
25R - Visual Information Equipment Operator
25V - Combat Documentation/Production Specialist
35H - Test, Measurement, and Diagnostic Equipment (TMDE) Maintenance Support Specialist
35L - Avionic Communications Equipment Repairer
35Q - Avionic Flight Systems Repairer
42E - Optical Laboratory Specialist
43M - Fabric Repair Specialist
44B - Metal Worker
44E - Machinist
45B - SmaII Arms/Artillery Repairer
45D - Self-propelled Field Artillery Turret Mechanic
45E - MI ABRAMS Tank Turret Mechanic
45N - M6OAIIA3 Tank Turret Mechanic
45T - Bradley Fighting Vehicle System Turret Mechanic
46Q - Journalist
46R - Broadcast Journalist
51B - Carpentry and Masonry Specialist
51K - Plumber
51M - Firefighter
51R - lnterior Electrician
51T - Technical Engineering Specialist
52C - Utilities Equipment Repairer
52D - Power-Generation Equipment Repairer
52F - Turbine
52G - Transmission and Distribution Specialist
54B - Chemical Operations Specialist
57E - Laundry and shower Specialist
62B - Constructlon Equipment Repairer
62E - Heavy Construction Equipment Operator
62F - Crane Operator
62G - Quarrying Specialist
62H - Concrete and Asphalt Equipment Operator
62J - General Construction Equipment Operator
63B - Light-Wheel Vehicle Mechanic
63D - Self-propelled Field Artillery System Mechanic
63E - MI ABRAMS Tank System Mechanic
63G - Fuel and Electrical Systems Repairer
63H - Track Vehicle Repairer
63J - Quartermaster and Chemical Equipment Repairer
63N - M6OAIIA3 Tank System Mechanic
63S - Heavy-Wheel Vehicle Mechanic
63T - Bradley Fighting Vehicle System Mechanic
63W - Wheel Vehicle Repairer
63Y - Track Vehicle Mechanic
67G - Utility Airplane Repairer
67N - UH-1 Helicopter Repairer
67R - AH-64 Attack Helicopter Repairer
67S - OH-58D Helicopter Repairer
67T - UH-60 Helicopter Repairer
67U - CH-47 Helicopter Repairer
67V - Observation/Scout Helicopter Repairer
67Y - AH-1 Attack Helicopter Repairer
68B - Aircraft Powerplant Repairer
68D - Aircraft Powertrain Repairer
68F - Aircraft Electrician
68G - Aircraft Structural Repairer
68H - Aircraft Pneudraulics Repairer
68J - Aircraft Armament/Missile Systems Repairer
68X - AH-64 Armament/Electrical Systems Repairer
71D - Legal Specialist
71G - Patient Administration Specialist
71L - Administrative Specialist
71M - Chaplain Assistant
73C - Finance Specialist
73D - Accounting Specialist
75B - Personnel Administration Specialist
75H - Personnel Services Specialist
76J - Medical Supply Specialist
77F - Petroteum Supply Specialist
77L - Petroleum Laboratory Specialist
77W - Water Treatment Specialist
88H - Cargo Specialist
88K - Watercraft Operator
88L - Watercraft Engineer
88M - Motor Transport Operator
88N - Transportatlon Management Coordinator
88P - Railway Equipment Repairer
88T - Railway SectionRepairer
88U - Railway Operations Crewmember
91A - Medical Equipment Repairer
91B - Medical Specialist
91C - Practical Nurse
91D - Operating Room Specialist
91E - Dental Specialist
91K - Medical Laboratory Specialist
91M - Hospital Food Service Specialist
91P - Radiology Specialist
91Q - Pharmacy Specialist
91R - Veterinary Food Inspection Specialist
91S - Preventive Medicine Specialist
91T - Animal Care Specialist
91V - Respiratory Specialist
91X - Mental Health Specialist
92A - Automated Logistical Specialist
92G - Food Service Operations
92M - Mortuary Affairs Specialist
92R - Parachute Rigger
92Y - Unit Supply Specialist
93C - Air Traffic Control (ATC) Operator
93F - Field Artillery Meteorological Crewmember
95C - Correctlons Specialist