Drill Sergeant School - Training Tomorrow's Soldiers
Training the Soldiers of Tomorrow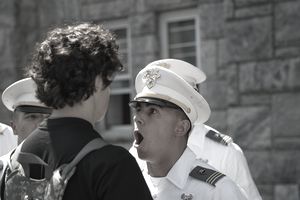 "The drill sergeant campaign hat is one of the most prestigious and sought-after uniform items in the military inventory," said CSM Scottie Thomas. "With the drill sergeant patch, worn by current and former drill sergeants, it signifies that a Soldier has accepted one of the greatest responsibilities in the Army today – turning civilians into Soldiers," added Thomas, the Commandant of the Drill Sergeant School at Fort Jackson, S.C.
"Before we became an Army at war, being a drill sergeant was one of the most sought after positions in the Army," said Thomas. "The number of volunteers who came here was higher before the war, and every NCO had that 'warrior spirit.' Today, NCOs are choosing to take that 'spirit' to the front lines with their units and waiting until they return to come to the school."
The war on terrorism may be keeping some sergeants from pursuing the coveted "brown round" drill sergeant campaign hat, but for others the war has created a new opportunity to make a difference and be a part of training the future force.
"I've waited almost three years to come here for the opportunity to train new recruits," said SFC Leon Casey, a school candidate from the 187th Ordinance Battalion at Fort Jackson. "My basic-training drill sergeant had a tremendous impact on my life, and because of that, I always knew that this is what I wanted from the military.
He set a standard for me to follow, and even today there isn't a pair of shoes in my house that aren't laced left over right. That's the impact I want to make on new Soldiers."
The mission of training tomorrow's Soldiers may appear to be a daunting task to some drill sergeant candidates, but Soldiers like SSG David Jameson say they are ready for the challenge.
"I want the opportunity to turn civilians into Soldiers, and I know when I graduate I'll have the tools necessary to do that," said Jameson of the 82nd Airborne Division.
As another candidate explained, the school is not designed to take seasoned NCOs back to basic training, but to get them back to the basics.
"Many of the NCOs who come here rely largely on their own experiences to get things done," said 1SG Harold Williams, the schools deputy commandant. "They will always have that knowledge with them, but here we want them to go back to the basics and learn to 'train to standard,' and then be able to enforce what they've learned."
Drill Sergeant School
For drill sergeant candidates, being an NCO is the easy part, explained Williams. Being an instructor responsible for teaching military skills to future Soldiers is the part they need to learn at the school. "The candidates receive the same instruction as initial-entry Soldiers. They receive the instruction in a manner that will help them pass that information on when they become drill sergeants," said Thomas.
The students have to understand that they'll be responsible for teaching the material they've learned to other Soldiers – Soldiers who may be heading off to the front lines once they've learned it, Thomas added.
"The only foundation new recruits have is what they've learned during their initial training."
Because of the immense amount of responsibility being handed over to new drill sergeants, candidates must undergo extensive background checks as part of the drill sergeant qualification process.
"One of the major obstacles in qualifying to come here is the security-clearance process," Thomas said. "Prospective candidates are also assessed by a variety of military agencies, so I feel comfortable that we're receiving Soldiers who are qualified to be here. They have to be mentally and physically fit for the challenge that lies ahead."
The candidate's day begins with physical training, followed by a full day of academic training. Every topic is specifically targeted to the basic training environment. Classes consist of basic rifle marksmanship, drill and ceremony, unarmed combat training and a variety of other basic military skills training.
The school's overall goal is to train each candidate to become the trainer, be able to clearly and concisely relay what he's learned to Soldiers.
Drill sergeant candidates also receive stress-management and personal relationship classes to help them in their future roles as mentors. According to Williams, these classes help students understand that each new recruit comes from a different background and some have no military experience.
"Everyone here has their own leadership style, but you learn to appreciate each of them because you can take some of that with you when you leave here for the trail," said drill sergeant candidate SSG Christy Doby, Company A, 1st Bn., 28th Infantry Regiment at Fort Jackson. "The instruction is great because the instructors here make you pitch the class so you're actually learning and relearning the subject. The training today is real-life."
"The instructors let you make your mistakes here," said Casey," so you can feel confident when it's your time to train new Soldiers."
The confidence to be a drill sergeant and a mentor to other Solders has always been held in high regard, said Thomas. Many seek the position as a stepping stone in their military careers. Others choose the road to drill sergeant school to have their own personal effect on tomorrow's Soldiers.
"If an NCO has the desire to become a drill sergeant, I recommend he do it," said Williams. "It's just another way for him to do his part in the war on terrorism. I remember when I was a junior Soldier, the first sergeant always picked the Soldier who wore a drill sergeant patch to conduct the day's training.
Basic Qualifications
To qualify as a drill sergeant candidate, applicants must:
Be graduates of the Basic NCO course

 

Meet the height and weight criteria outlined in AR 600-9

 

Have a minimum of four years continuous active service

 

Be able to pass the Army Physical Fitness Test with no alternate events

 

Have qualified with the M-16A2 within six months of submitting the application for the Drill Sergeant School

 

Have a minimum GT score of 100 (which may be waived to 95)

 

Must be in the rank of staff sergeant or sergeant first class, although a pilot program now accepts a limited number of sergeants.
Further qualification standards can be found in AR 614-200, Chapter 8.