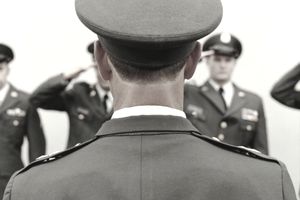 U.S. Army Officers must meet specified criteria in order to be eligible for promotion. Two of the primary factors influencing officer promotions are time in service (TIS) and time in grade (TIG). Time in service is the total time in which an individual is in the Army. An officer must spend a given amount of time in each grade prior to advancement to the next. Time in grade refers to the number of months or years in which an officer serves in a given rank.
DoD policy calls for a sufficient number of officers to provide the manpower and skill requirements for each competitive category and grade. Officers in the same competitive category will compete among themselves for promotion. Changes in authorizations, losses and promotions to the next higher grade will create variations in both the TIS and TIG at which promotions may occur.  
The promotion timings, as stated in Department of Defense Instruction 1320.13 are expressed in terms of the years of Active Federal Commissioned Service (AFCS) at which promotion occurs. The promotion opportunity (DOPMA rate), as stated in DODI 1320.13, is the percentage of total selects over the eligible in-the-zone population.
The minimum TIG requirements for promotion to the next higher grade has been established by Title 10 USC, as shown in table below.
| | | | |
| --- | --- | --- | --- |
| Promote to: | Time in Service | Time in Grade | Promotion Opportunity (DODI) |
| 1LT/O2 | 18 months | 18 months | Fully qualified |
| CPT/O3 | 4 years plus 1 year | 2 years | Best qualified (90 percent) |
| MAJ/O4 | 10 years +/- 1year | 3 years | Best qualified (80 percent) |
| LTC/O5 | 16 years +/- 1 years | 3 years | Best qualified (70 percent) |
| COL/O6 | 22 years +/- 1 year | 3 years | Best qualified (50 percent) |
Above information derived from Army Pamplet 600-3