9 Basics of Arizona's Security Deposit Law
What Every Arizona Landlord and Tenant Should Know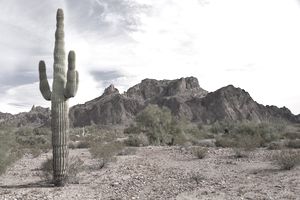 Rules for the security deposit make up a big part of Arizona's landlord tenant law. Both landlords and tenants must understand these laws so they can get the money that is rightfully owed to them. Here are nine basic guidelines about security deposits every Arizona landlord and tenant needs to know.
9 Basic Questions About Security Deposits in Arizona
Maximum Security Deposit in Arizona- One and a Half Month's Rent
Nonrefundable Deposit- Must State Deposit is Nonrefundable in Writing
Storing Deposit- No Specific Rules
Written Notice- Yes. Tenant's Right to be Present at Move-Out Inspection
Keeping Deposit- Unpaid Rent, Damages, Other Breaches of Lease
Walk-Through Inspection- Required. Tenant Can Be Present
Returning Deposit- Within 14 Days of Tenant Move-Out
Selling Property- New Buyer Responsible for Collecting Deposits From Seller
Break Security Deposit Law- Tenant Could Get Two Times Deposit Withheld Plus Damages
1. Is There a Security Deposit Limit in Arizona?
Yes. Landlords in Arizona cannot charge a tenant more than one and a half month's rent as a security deposit. A landlord cannot demand that a tenant pays more than this, however, if a tenant voluntarily agrees to pay more than one and a half month's rent, they may do so.
Example: If the monthly rent is $1,000, the most a landlord could charge for a security deposit would be $1,500, which would be one month's rent ($1,000) plus one-half month's rent ($500).
2. Can You Charge a Nonrefundable Deposit?
In Arizona, if a fee or deposit is nonrefundable, the landlord must state in writing that it is not refundable and must explain the purpose of the fee or deposit. All fees and deposits which are not designated as nonrefundable are considered refundable.
3. How Must You Store The Security Deposit in Arizona?
The state of Arizona does not have any specific rules for storing a tenant's security deposit.
It does not have to be kept in any financial institution. In fact, the landlord is allowed to use the security deposit during tenancy to cover situations that have been spelled out in the lease agreement. The landlord must have the appropriate funds due to the tenant available to return to the tenant upon tenant move-out.
4. Is Written Notice Required After Receipt of the Security Deposit in Arizona?
Upon tenant move-in, the landlord is responsible for supplying the tenant with:
A Signed Copy of the Lease Agreement
A Move-In Form- Which the tenant will use to write down any existing damages in the unit.
Written Notice- The landlord shall provide the tenant with written notice that the tenant has the right to be present during the move-out inspection.
5. What Are Some Reasons You Can Keep a Tenant's Security Deposit in Arizona?
In the state of Arizona, a landlord can keep a tenant's security deposit, or a portion of the deposit, to cover:
Unpaid Rent
Damage in Excess of Normal Wear and Tear
Other Costs Resulting From Breach of Lease
6. Is a Walk-Through Inspection Required in Arizona?
Yes. Landlords in the state of Arizona must conduct a move-out inspection. Tenants have the right to be present at the inspection if they inform the landlord of their desire to be present.
If a tenant is being evicted, and the landlord fears for his or her safety, the landlord does not have to allow this tenant to be present at the move-out inspection.
7. When Must You Return a Tenant's Security Deposit in Arizona?
Time Frame:
Landlords in the state of Arizona have 14 days from termination of tenancy to return a tenant's security deposit. This does not include weekends or holidays.
First Class Mail:
This deposit must be mailed by first-class mail to the last known address of the tenant​ unless the tenant has made other arrangements with the landlord or provided the landlord with a different forwarding address.
Written Itemized List:
If any deductions have been made from the deposit, the landlord must also include a written itemized list along with the portion of the security deposit being returned.
This written itemized list must explain the reason for each deduction and the amount being withheld.
8. What Happens to the Security Deposit If You Sell Your Property?
In the event you sell your property, the new owner will be responsible for adhering to Arizona's security deposit law and for returning the security deposit to the tenant. It is the new buyer's responsibility to make sure they receive all security deposits from the current owner.
9. What Happens If You Fail to Follow Arizona's Security Deposit Law?
Failure to adhere to Arizona's law governing the security deposit could result in the tenant being awarded two times the amount of security deposit wrongfully withheld plus any damages awarded by the court.
What Is Arizona's Security Deposit Law?
If you would like to view the actual text of the law please consult Arizona Revised Statutes §§ 33-1321 and 33-1341.