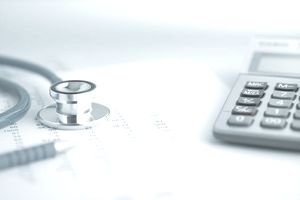 Legislation providing for Archer medical savings accounts, often called MSAs, expired at the end of 2007. Taxpayers and their employers can no longer establish Archer MSAs, but if you had an existing account prior to this date, you can still use it and make contributions to it.
How Archer MSAs Work
Archer medical savings accounts are technically custodial accounts with financial institutions or insurance providers.
They're tax-deductible accounts used toward costs of qualified medical expenses. Like health savings accounts, Archer MSAs function much like individual retirement accounts. You or your employer contribute to the MSA. You can take tax deductions for your contributions, subject to a few rules. Archer MSAs earn interest which may be tax-deferred or even tax-free. Withdrawals for medical expenses are tax-free withdrawals. Withdrawals for non-medical purposes are taxable and penalties may apply.
Not a Substitute for Health Insurance  
An Archer MSA is not a substitute for a health insurance plan. It pays for qualified health care expenses that are not covered by your insurance. You must have been covered by a high-deductible health plan at the time you established your MSA.
Qualifying Medical Expenses
Tax-free distributions from your Archer MSA may be taken for the following medical expenses:
Doctor's visits
Dental care
Vision care
Hospitalization
Lab work
Prescription drugs, as well as over-the-counter medications and insulin if they are prescribed by a physician
Chiropractic care
Acupuncture
Ambulance service
COBRA continuation coverage
Health insurance premiums if you are unemployed
If you withdrawal money from your account for any other purpose, the funds are taxable as regular income.
A 20 percent tax penalty also applies to the amount of the withdrawal unless you are disabled or age 65 or older. This penalty increased from 15 percent in 2011. After age 65, you can withdraw any unused portion of your Archer MSA to supplement your retirement income.
All distributions must be reported, even if they are made for qualified medical costs.
Tax-Deductible Contributions
Contributions are limited by the amount of your health plan deductible. If you have a family plan, you can deduct 75 percent of your annual premium. Otherwise, you can deduct 65 percent.
Both you and your employer can make contributions to your Archer MSA, but not in the same calendar year. Your health insurance plan cannot have lapsed at any time during the year. Your contributions cannot exceed your annual earnings.
You can deduct your contributions to an Archer MSA using Form 8853 and Instructions. See IRS Publication 969, Health Savings Accounts for more information. 
Taxable Contributions
If your employer makes contributions to your account exceeding the maximum allowed by your health plan deductible, you must pay a 6 percent excise tax on any amounts over the limit.
NOTE: Tax laws change periodically and the above information may not reflect the most recent changes. Please consult with a tax professional for the most up-to-date advice. The information contained in this article is not intended as tax advice and is not a substitute for tax advice. 
Also Known As: MSA, Archer MSA, Medical Savings Accounts