April Fools' Day Hoaxes of 2015
Some Of The Best April Fools' Day Jokes From The Biggest Brands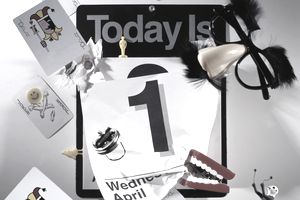 Every year on April 1st, brands have a little fun with a holiday that has become known more as "trust no-one" day. It's a chance for brands that may normally be very serious to have a more light-hearted approach to their products and services. 2013 was a particularly good year for this.
This year, April Fools' Day had some of the usual contenders in the mix, like Google and Oreo, and some that made us all sit up and take notice.
Here are some of the ones that made the rounds.
Google Maps – Pac-Man Turning maps into Pac-Man scenarios is nothing new. Back in the 80s, they did it in a movie called Top Secret, starring Val Kilmer. However, incorporating playable Pac-Man into the most popular map software on the web, that's ingenious. Once again, Google had everyone talking about them on April 1st.
Funny Or Die – Dips Vine is 6 seconds. Instagram is 15. Those are both way too long. Funny or Die founder Adam McKay decided to launch Dips, the 1.5-second videos that give people a chance to express themselves in the shortest amount of time. It may be a joke, but somehow it's got a chance of catching on.
Honda – The Selfie Edition Cars and smartphones – two pieces of modern technology that are not supposed to go together. That doesn't stop people using their phones in their cars, often with disastrous results. Honda decided to jump on this, and make a product that, well, actually seems like a good idea for those people addicted to car selfies (you all know who you are).
Miz Mooz – Selfie Shoes Moving on from cars to shoes. One quick look at the YouTube page for this prank, and you can see why jumping on something like April Fools' Day can be invaluable for a brand. Over 2 million hits and counting for Miz Mooz, a company very few people had heard of until the launch of their ridiculous Selfie Shoes.
BMW New Zealand – The April Fools' Double-Bluff You really have to hand it to BMW NZ. For many years, brands have been pulling stunts on April 1st, trying to reel people in. And of course, make people look a bit silly in the process. BMW NZ decided to reverse the trend, taking something that would have made someone look foolish into the winner of a fantastic new car. Good for you guys!
Samsung Galaxy – Blade Edge Smartphones can do so much these days. Why not push the envelope a little further, and create a phone that not only looks sharp, but cuts as sharp as a chef's knife? That's what Samsung did with the launch of the Galaxy Blade Edge. It offers all the features of a Galaxy S6, but comes with a razor-sharp diamond edge, curved ergonomic handle, and waterproof blade.
Domino's - Domi-No Driver If Google can make a driverless car, why can't Domino's introduce a driverless delivery bike? Of course, it's pure nonsense, but the genius of the stunt was seeing the sightings of the Domi-No bikes on the web. As you can see here, and here, it looks real enough, and seems like a great idea…until someone gets run over by one.
BMW UK – Motor Mouth Not to be outdone by their cousins in New Zealand, BMW UK launched the Motor Mouth mouth guard.
Yes, a mouth guard for professional athletes, like rugby players, that gives them all the protection of a BMW grill for their teeth. Is it believable? Not for one second. Is it fun, and share-worthy? Well, you're reading this aren't you?