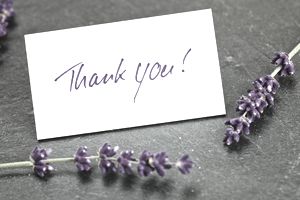 People love to know that they are appreciated. Sending an appreciation letter or note not only shows your gratitude. It also encourages the person who helped you to offer help again next time.
Sometimes sending a formal note of appreciation does even more than communicate a warm, fuzzy feeling. Many employers offer coupons or other gifts to employees who receive special mention from a grateful public.
A few good words from a customer, in writing, might even lead to greater job security. Remember that most people voice only complaints, so saying "Thank you, good job!" can really make a difference.
Here, to inspire your attitude of gratitude, are some famous quotes on the subject of thankfulness. 
Motivational Appreciation Quotes
Showing gratitude is one of the simplest, yet most powerful, things humans can do for each other.
--Randy Pausch
Make it a habit to tell people thank you. To express your appreciation, sincerely and without the expectation of anything in return. Truly appreciate those around you, and you'll soon find many others around you. Truly appreciate life, and you'll find that you have more of it.
--Ralph Marston
How lucky I am to have something that makes saying goodbye so hard.
--A.A. Milne
Gratitude helps you to grow and expand. Gratitude brings joy and laughter into your lives and into the lives of all those around you.

--Eileen Caddy
In daily life, we must see that it is not happiness that makes us grateful, but gratefulness that makes us happy.
--Brother David Steindl-Rast
As we express our gratitude, we must never forget that the highest appreciation is not to utter words, but to live by them.
--John F. Kennedy
I've learned that people will forget what you said, people will forget what you did, but people will never forget how you made them feel.

--Maya Angelou
Appreciation Quote Examples for Notes and Letters
Now, it's your turn. Here are a couple of simple thank you messages you can use for a variety of circumstances. Next time you want to communicate your gratitude but don't know what to say, grab one of these messages and adapt it to your circumstance.
Your willingness to help out wherever there is a need is greatly appreciated. It's that kind of flexibility and dedication that will help this company grow to its full potential.
 
I appreciate the extra time you've been spending at work while we are so busy. In a small business, we all need to take on a little extra sometimes, and it's employees like you who make it work for us all.
 
Your positive attitude has had a terrific influence on the way the entire staff is viewing our restructure. Your effort continues to help things run smoothly, and I really appreciate your support.
 
All the hours of hard work have really paid off on your current project. You have done a great job as team leader, and I really appreciate the extra effort you've put into it.
 
Your offer to help out on this project is really appreciated. We're lucky to have someone with your experience to guide us through some of the difficulties we are facing. Please let me know if I can make someone available to keep your other projects on schedule while you spend time on this.
 
I very much appreciate the time you have spent with me in planning our relocation. It will make all the difference when it comes time to begin the actual move.
 
I really appreciate your offer to help in planning the company picnic. I have a project that is taking a lot of my time right now, and having you take on some of the tasks will be a big help.
 
Your willingness to help out with anything we've needed during our renovations is very much appreciated. It takes dedication and insight into the whole process to contribute in so many ways to a project like this.
 
My team and I truly appreciate your understanding and support regarding the changes we have made to the project plan. We believe that these changes are going to positively affect the customer experience with this as well as future projects.
 
I really appreciate your taking the time out of your busy schedule to speak with me, and your insights into my current project. I plan to implement many of your suggestions, and will be sure to send you a follow-up when the project is completed.
For more help writing a thank you letter or email, review these thank you phrases, wording, note, and message samples.
More About Showing Your Appreciation: Appreciation Letter Examples | Appreciation Email Examples