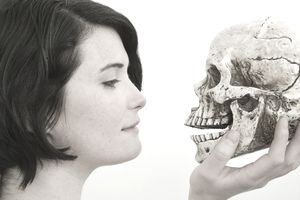 Job Description
Anthropologists, along with archaeologists, study human beings. They look at our origin, development and behavior. There are three major types of anthropologists: cultural, physical and linguistic. A cultural anthropologist studies groups' customs, social structures and cultures. A physical or biological anthropologist does research on the evolution of humans. A linguistic anthropologist specializes in communication among people.
Employment Facts
In 2012 there were just over 7,000 anthropologists and archaeologists*. Research organizations, museums, colleges and universities and the federal government employed many of them. Others worked for local governments and private consulting firms.
When you think of an anthropologist you may picture someone traveling the world in order to gather information about the people he or she is studying. While many anthropologists do fieldwork, others spend the majority of their time working in offices and laboratories. Many have full time jobs and work regular hours. While working out in the field, anthropologists often put in many hours and don't adhere to a typical "9 to 5" schedule.
Educational Requirements
To work as an anthropologist you will need, at the minimum, a master's degree in anthropology. It typically takes two years to earn a master's degree after first spending four years in college earning a bachelor's degree.
If you want to teach at a college or university you must earn a doctoral degree (PhD). This will take an additional several years. There aren't many positions available to those who have only a bachelor's degree, but with one you may be able to find work as a laboratory, field or research assistant.
Experience, which you may attain by doing an internship, is a must for all entry-level jobs in this field regardless of the degree you have.
Why Do You Need to Know About Educational Requirements?
Other Requirements
Anthropologists, in order to collaborate on research and present their findings, need excellent communication skills. Perseverance is another required trait, given the number of years anthropologists spend working on individual projects. Anthropologists should also have excellent critical thinking, analytical and investigative skills.
Job Outlook
The United States Bureau of Labor Statistics predicts the job outlook for anthropologists will be excellent through 2022. Employment will grow more quickly than the average for all occupations but, because this is a relatively small field, this high rate of growth will not lead to many additional job opportunities.
Why Do You Need to Know About Job Outlook?
Earnings
Anthropologists earned a median annual salary of $59,280 and median hourly earnings of $28.50 in 2014.
Use the Salary Wizard at Salary.com to find out how much an anthropologist currently earns in your city.
A Day in an Anthropologist's Life
Anthropologists work in a variety of settings including universities, advertising agencies, consulting firms and corporations.
These are some typical job duties taken from online ads found on Indeed.com:
University: Teach courses at all levels of the curriculum including introduction to cultural anthropology and required theory courses for the major
Advertising Agency: Execute competitive research and audits to fuel insights for client and project-based work
Market Research Company: Play the role of lead interviewer in the gathering of insights, primarily through ethnography, in-depth interviews, online community moderation.
Automobile Manufacturer (Research & Development): Design and plan research investigations
University: Conduct research with undergraduate students
Consulting Firm: Develop field plans and fieldwork execution, and associated reporting
Occupations With Related Activities and Tasks
| | | | |
| --- | --- | --- | --- |
|   | Description | Annual Salary (2014) | Educational Requirements |
| | Examines groups, cultures and organizations in order to learn about society and social behavior | $72,810 | Master's degree or PhD in sociology |
| | Designs and conducts surveys about people's opinions | $49,760 | Master's degree or PhD in marketing or survey research, statistics, and the social sciences |
| Forensic Science Technician | Gathers, documents and analyzes crime evidence | $55,360 | Bachelor's degree in chemistry, biology or forensic science. |
| Historian | Studies historical documents and sources in order to learn about the past | $55,870 | Master's degree or PhD in history |
Sources:
Bureau of Labor Statistics, US Department of Labor, Occupational Outlook Handbook, 2014-15 Edition, Anthropologists and Archaeologists, on the Internet at http://www.bls.gov/ooh/life-physical-and-social-science/anthropologists-and-archeologists.htm (visited July 9, 2015).
Employment and Training Administration, US Department of Labor, O*NET Online, Anthropologists, on the Internet at http://www.onetonline.org/link/details/19-3091.01 (visited July 9, 2015).
*Note: The US Bureau of Labor Statistics combines wage and employment data for Anthropologist and Archaeologist.