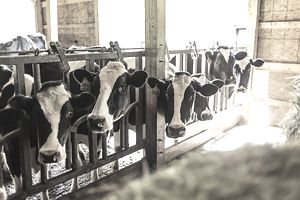 Animal health inspectors ensure that animal facilities comply with all state and federal regulations.
Duties
Animal health inspectors are responsible for inspecting various facilities including livestock markets, hatcheries, pet dealers, animal shelters, production facilities, research laboratories, feedlots, and quarantine facilities.  Their primary goal is to ensure that all facilities are operating in compliance with state and federal laws regarding animal health, safety, and welfare.
All areas housing or processing animals must meet stringent requirements.
Inspectors are generally assigned to monitor cases in a particular region. They issue licenses to breeders, pet stores, and rescue groups in that area. They are also involved with investigating and shutting down any unlicensed animal operations that are found to be conducting business in their territory.
Inspectors coordinate with veterinarians to conduct disease testing on animal populations at inspected facilities. They may be involved with the collection of a variety of samples for the testing process including blood, milk, body fluids, and tissue. Inspectors also give recommendations to animal facilities to improve their biosecurity measures and reduce the incidence of disease.
Animal health inspectors are usually required to travel extensively throughout their designated territory to investigate agricultural facilities, so it is not uncommon for the position to be a combination of fieldwork and office work.
Inspectors must also be available to work some evening, weekend, and holiday hours when necessary to complete their caseload.
It is important that animal health inspectors carefully follow proper safety precautions when working around animals or inspecting facilities, as there is always a chance of injury when working with unpredictable animals that may be under extreme stress.
Career Options
According to the Bureau of Labor Statistics, the majority of agricultural inspector positions are with the federal government (24 percent), state government (22 percent), or slaughtering and processing facilities (17 percent). The states offering the greatest number of positions in this field are California (1,600 jobs), Texas (890 jobs), Florida (660 jobs), Illinois (640 jobs), and Washington (620 jobs).
Animal health inspectors may readily transition to a variety of animal enforcement positions, including wildlife inspector roles.
Education & Training
Most job postings for animal health inspector positions call for applicants to hold an Associates degree at minimum, though most candidates chosen for inspector roles will hold a Bachelors degree. A degree in a field like zoology, veterinary medicine, or animal science is preferable. Some inspectors have also earned their Doctor of Veterinary Medicine (DVM) degree and are licensed, veterinarians. Individual states may have additional requirements of their own—for example, New York which requires that inspectors must also be licensed as veterinary technicians.
Animal handling skills (particularly with domestic livestock species) will be considered a big plus for aspiring animal health inspectors.
Most inspectors have extensive practical animal experience, particularly working in a veterinary or livestock management setting, before formally pursuing this career path. Laboratory and computer skills are also particularly valuable attributes.
Animal health inspectors must also be very familiar with all legal directives relating to the humane treatment of animals, particularly the Animal Welfare Act. Local, state, and federal regulations may be applicable to the animal health casework completed by the inspector, so there is a large amount of legal literature for the inspector to review.
Salary
The Bureau of Labor Statistics (BLS) reported a median wage of $43,090 per year ($20.97 per hour) for agricultural inspectors in the salary survey conducted in May of 2014.  The lowest paid 10 percent of agricultural inspectors earned less than $25,320 per year ($12.17 per hour), while the highest paid 10 percent of agricultural inspectors earned over $62,970 per year ($30.28 per hour).
Employment site Indeed.com cited a similar average salary of $47,000 per year for animal health inspectors in 2013.
The top paying states for agricultural inspectors by annual mean wage during the 2014 BLS salary survey were found to be Connecticut ($68,220), Massachusetts ($60,510), Michigan ($59,430), and New York ($59,410).
Animal health inspectors with significant education (such as those who have achieved a DVM or other advanced degree) or those who have advanced to a managerial or supervisory role will likely earn much higher levels of compensation commensurate with experience.
Career Outlook
The livestock industry continues to show growth, so the need for additional livestock inspectors should continue to increase to match this demand. Additionally, regulations like the U.S. Department of Agriculture animal traceability law will demand more inspectors to complete documentation for interstate animal travel.