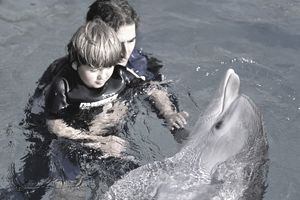 Animal-assisted therapists utilize direct animal contact as part of their treatment plans.
Duties
Animal-assisted therapists are often mental or physical health care professionals who use animals as an additional component of their comprehensive treatment plans. They carefully integrate animals into a client's sessions when appropriate, supervising the animals as the interactions take place. The animals are used for a variety of purposes depending on the goals of the therapy session.
These purposes can include providing touch and affection to clients, helping with anxiety issues, increasing the physical mobility of a client through direct handling, providing a topic of conversation, and giving the client an incentive to attend counseling sessions.
Dogs are most frequently used in animal-assisted therapy, but other types of animals have also been successfully integrated into AAT programs. Cats, rabbits, horses, dolphins, and many other species can be utilized in specific therapy settings.
Individuals working in animal-assisted therapy must have access to animals that are comfortable with unfamiliar people and new surroundings. They must be sure that the animal is friendly, well trained, and (if possible) certified for therapy work through a program like the AKC's Canine Good Citizen program, Pet Partners, or another similar organization that screens and verifies an animal's suitability for this type of interaction.
It is also important that the therapist considers any potential liability issues and seek additional insurance if the animal-assisted therapy will not be covered under current policies.
Career Options
Animal-assisted therapists may work part time or full time with animals, and they may specialize by focusing on working with children or adults in a specific context.
Their primary position may be as a psychologist, psychiatrist, counselor, physical therapist, occupational therapist, nurse, social worker, or educator (adding the animal contact as an additional element of their treatment programs).
Animal-assisted therapists may conduct their work in hospitals, nursing homes, physical or occupational therapy facilities, correctional institutions, mental or behavioral health facilities, schools, private health care offices, and other similar locations. Some may choose to focus primarily on animal-assisted therapy and open an office that specializes in such interactions.
Education & Training
While there is no single accrediting body for animal-assisted therapy, there are many certification programs available to those interested in the field. Some of the certification programs involve direct on-campus training, others offer a distance learning (online) option, and a few offer a combination of on-campus and online work. Most programs do not require any specific educational background for applicants, but some require an undergraduate degree.
Many animal assisted therapists already hold an advanced degree in an area such as psychology, psychiatry, education, rehabilitation therapy, occupational therapy, or other health care fields.
Salary
The salary an animal-assisted therapist earns is directly tied to their primary area of employment.  According to the Bureau of Labor Statistics (BLS), psychiatrists earned a median annual salary of $173,330 during the most recent survey conducted in 2012. Physical therapists earned a median annual salary of $79,860. Occupational therapists earned a median annual salary of $75,400.  Psychologists earned a median annual salary of $69,280. Any of these career paths (and many more) could integrate animals into their treatment plans.
Adding animal-assisted therapy may not directly increase the provider's salary, but it should have a positive impact by expanding the services and reputation of the provider's business.
Career Outlook
Animals are becoming increasingly popular components of therapy work, as they can give patients an incentive to participate in their treatment and have positive feelings toward their treatment sessions.
The number of individuals pursuing animal-assisted therapy certification has also shown steady growth to match this demand. It is to be expected that this trend of growth will continue for the foreseeable future.
Most careers that can benefit from an integration of animal-assisted therapy (psychology, therapy, health care) are expected to grow faster than the average for all professions over the next decade.