An Interview with a Generation Y Lawyer
Nicole Abboud Shares Her Expertise on Being a Generation Y Lawyer.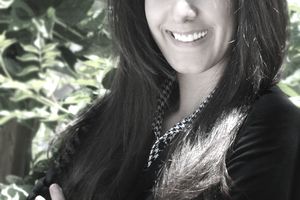 Today we welcome Nicole Abboud, founder of GenerationWhyLawyer.com and an attorney practicing fashion law in California. She is sharing her expertise on being a Generation Y lawyer. Welcome, Nicole!
Why did you decide to go to law school? What motivated you?
I just felt it in my bones that I wanted to become an attorney. I was mesmerized by the authority and power that came along with the position. Being able to use my legal knowledge and skills to help individuals in my community was what drove me to go to law school and pushed me through until the moment I passed the bar.
Oh and I thought it would be really cool to be just like Ally McBeal.
What was your initial experience in law practice like?
My initial experience was filled with utter fear and confusion. I had been a student for over 20 years so being out in the real world, in a "big girl" job, was scary. There is a huge learning curve when you first start practicing law, and the amount of responsibility that falls in your lap is a bit overwhelming. When I first graduated, I was lucky enough to find an associate position with a solo practitioner so I gained a lot of hands-on experience from the get-go. However, even though I was grateful I had a job, it only took a few months for me to realize that the practice area that I had chosen (family law) was not a good fit for me. I was unhappy and unfulfilled for many months  until I decided to switch to a different practice area (business and trademark law).
What are you doing now as a lawyer?
I opened my own ​solo practice over a year ago, which was one of the scariest but best decisions I have ever made.
I truly enjoy the freedom to create my own legal lifestyle, and I love the ability to engage in the business side of running a practice as well.  The majority of my legal work focuses on intellectual property and business law. I help small businesses and individuals grow their brands through legal protection.
I know you do a lot of work with young lawyers, too. Tell me about that.
I am super passionate about helping fellow young lawyers navigate through what could be a very stressful and confusing profession. I do this through my Gen Why Lawyer Podcast, which I discuss below, and through my Young Lawyer Personal Branding workshops. When I first started practicing, I quickly realized two things: 1) it's crucial for young lawyers to develop strong personal brands if they wish to make an impact, be heard, and make money, and 2) being a Gen Y lawyer in the legal profession nowadays should come with its own playbook.
Regarding the personal branding, I work with young lawyers in both a group and one-on-one settings helping them establish personal brands that position them as authority figures in their respective areas and allow them to live the kind of life they want.
Tell us about the Gen Y Lawyer podcast. Why did you start that, and how's it going? What do you talk about?
I launched the Gen Why Lawyer Podcast in March 2015. One of the biggest reasons why I launched it was really for selfish reasons. As I mentioned above, when I first passed the bar and started practicing, I noticed right away that I was experiencing many emotions on the daily.
I thought it was just me so I sucked it up and dealt with it for a while. But then, when I started sharing these sentiments with my lawyer friends, I noticed that we all were feeling the same things. Many of us felt blindsided by the fact that the profession was not what we expected, there was very little room for creativity and even less room for "work/life" balance.
Most of all, we were frustrated over the fact that we had so much debt and so few options for work to help us get rid of that debt. Keep in mind that I graduated and started practicing in 2011, which was one of the worst years for law school graduates in terms of job placement and security.
After complaining to anyone who would listen for a few months, I decided to change things up and instead of focusing on the problems, I decided to find solutions.
I purposely searched for young lawyers who were willing to share their journeys and offer advice to others on how to achieve success on their own terms. I knew that if I shared the stories of other young lawyers who were finding fulfillment in their careers, then I can inspire those who weren't feeling the joy to go out there and seek it out, whether that was in the legal profession or outside.
Each week I speak with an inspiring lawyer and each time, I learn something new about life, the legal profession, making money, entrepreneurship, leadership, branding, building relationships, community building, and living an all-around purposeful life.
How do you think Gen Y lawyers are different? Do they face unique challenges in the legal profession?
I think there are two ways to answer this question: one is by studying Gen Y lawyers and the characteristics that we exhibit, and another way is to really view Gen Y lawyers as products of the surrounding economic, cultural, and political circumstances that influenced our upbringing. 
Not to go into a long history lesson here, but basically, there are a few characteristics that Gen Y lawyers exhibit that lawyers of prior generations perhaps don't. In a nutshell, we demand greater flexibility from the traditional 9 to 5, we want to participate in a collaborative work culture, and we want to spend just as much time with our families and friends as we do in the office. We're also more adept at incorporating technology into our practices to make processes simpler and provide greater value for clients.
Ultimately, the challenges that the legal profession currently presents are felt by everyone, Gen Y or otherwise. The profession is changing and we're all trying to adapt. Gen Y lawyers are possibly in a better position to make that adaptation because of our ability to adopt concepts and methods that aren't traditionally found in legal practice.
What are your three best pieces of career advice for law students and/or new lawyers?
1. Build yourself up as an authority figure in something! It can be your practice area, a niche practice area, a hobby, a skill, etc. If you become the go-to person for a specific subject matter, you will begin to build your personal brand and ultimately, attract clients, referrals, and business. You can do this through blogging, making videos, using social media, and other platforms.
2.  Expose yourself to as much experience as you can. Extern while in law school, volunteer at local legal aid clinics as a new lawyer, participate in pro bono services, do whatever you can to get experience if you're not getting it at your firm or if you're a solo practitioner and have some extra time.
3.  Focus on building relationships with professors, older attorneys, colleagues, and non-legal professionals because those relationships will serve you immensely when you're practicing and need a mentor to turn to for help. Relationships take time to build so don't expect to receive help from anyone before you offer to help them first.  Give first always.
How can people find you, if they'd like to stay in touch?
The best way to reach me is at nicole@genwhylawyer.com or anywhere on social media (just type in my name – although the fastest way to my heart is through Instagram @nic_abboud. My website is www.genwhylawyer.com and you can find the podcast on iTunes or Stitcher Radio.
I have a small gift for you. I wrote a guide called "7 Ways to Shake Things Up as a Young Lawyer (Plus 1 That Will Completely Change the Game)." Get your free copy at www.genylawyer.com/shakethingsup.