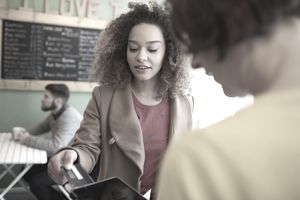 The American Express Serve card is a prepaid debit card with fee waivers that are easy to qualify for. With FDIC coverage and additional features that help you manage your finances, the card can virtually replace a checking account.
Like all prepaid debit cards, the Amex Serve card functions just like a credit card: You use it to make purchases online or in person using funds that you load into your account.
Because you're spending your own money, there's no way to rack up debt with the card, and you'll avoid overdraft fees that are typical of checking accounts.
Highlights of the Serve Card
Your Serve account allows you to do much more than make purchases and withdraw cash at ATMs.
Online bill payment: Pay bills for free using the account balance on your card. Amex will mail a check or pay your bills electronically, so you can automate your finances and avoid missing payments.
Mobile check deposit: If somebody pays you with a check, deposit those funds to your Serve account with your mobile device. There's no need to make a trip to a branch or ATM. You can also set up direct deposit, which automates the process entirely and helps you minimize fees.
Early direct deposit: If your employer submits payroll information early enough, Amex may credit your account one or two days before your scheduled pay date.
That gives you a few extra days to spend—but it might also mean that the end of the month just comes sooner.
Money transfers and cash pickup: When you need old-fashioned cash, you can withdraw large sums at Walmart locations. Doing so allows you to get more than most ATMs allow in one transaction. You can also send funds for somebody else to pick up at their local Walmart.
Note that fees apply for cash pickups.
Subaccounts: Instead of just giving money to somebody else, you can make funds available to them through a Serve subaccount. This may be useful for paying allowances or fronting money for a contractor to buy materials.
FDIC insurance: Funds that you load to your Serve account qualify for FDIC insurance. To be eligible, you'll need to register with Serve, and it typically takes one business day for Amex to place your funds in FDIC-insured bank accounts.
In addition to the features above, roadside assistance, buyer protection, and other perks make the card worth investigating.
How to Add Funds
There are several ways to load your Serve account.
Direct deposit of your wages. This is the best option if you want to minimize costs, as the standard Serve card provides the opportunity for a fee waiver with direct deposit.
Transfer from your bank account. Most banks allow you to make electronic transfers to your Serve card at no cost.
Deposit cash at retailers, including supermarkets, convenience stores, and pharmacies nationwide. A fee may apply, depending on which Serve card you use.
Mobile deposits, although you may need to wait ten days or pay a modest fee before funds are available for spending
American Express Serve Fees
The Serve account can be free if you set up direct deposit and use basic features.
Cards are free if you sign up online. You can also purchase cards from retailers for $3.95.
Monthly charges on the standard Serve card are waived if you set up direct deposit of at least $500 per month.
ATM access is free at more than 24,000 MoneyPass ATMs. Other networks result in charges from American Express and the ATM operator.
Deposits to your account are free if done electronically. The standard Serve card features a fee for cash deposits, but the FREE Reloads card offers over 45,000 locations for fee-free deposits.
Variations on the Theme
The Serve card comes in three varieties.
The standard Serve card is a low-cost prepaid card useful for receiving pay, making purchases, and paying bills. This may be the best option for W-2 employees and freelancers who primarily get paid by check or with electronic deposits.
The FREE Reloads card offers free cash deposits with a monthly fee of $4.95. This option may make sense for those who have no bank account and primarily earn wages in cash.
The Cash Back card offers 1 percent back on purchases and features a monthly fee of $5.95. Cash back rewards are virtually nonexistent with debit cards—especially prepaid cards—so this is a unique offering. The Cash Back card may make sense for those who load and spend large amounts.
Potential Pitfalls
The Amex Serve card is one of the most affordable prepaid cards available, and it's packed with useful features. Still, it's always helpful to understand the pros and cons.
Not accepted everywhere? American Express cards are accepted at countless online and brick-and-mortar merchants. But some retailers choose not to take Amex. Occasionally, you may need to find an alternate way to pay.
Mobile deposits: Mobile check deposits to your Serve account typically require a ten-day wait before you can access the funds. Most banks make funds available faster than that, and you may experience problems if you don't keep extra cash on hand. Amex will expedite check deposits—with potential same-day availability—for a fee.
Alternatives to Serve
While the Serve account is a capable offering, you may find that it's not exactly what you need.
For personal payments, numerous apps—and even bank accounts—allow you to move money to friends and family for free. The people you transfer funds to most likely already have accounts with Venmo, PayPal, or Square Cash, so they won't need to sign up for new services.
For safe online shopping, credit cards and payment services like PayPal can add a layer of protection between online merchants and your credit card. Like Serve, those services provide some form of buyer protection.
To avoid debt, traditional bank debit cards allow you to spend from your checking account balance without going into debt. Opt out of overdraft protection, and you can also avoid costly mistakes.