America's Next Top Model Cycle 21
14 Girls & Guys Hit the Runway in Cycle 21 of ANTM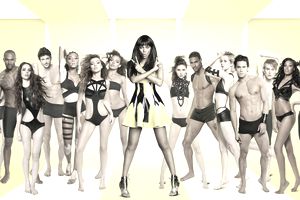 Can't wait for your next fix of America's Next Top Model?  Well, you're in luck because Cycle 21 of Tyra Banks' hit show hits the runway on the CW Network in just a few days!
With the success of last season's cycle, which featured both female and male models, Cycle 21 will also feature female and male models competing for the title of America's Next Top Model. 
Included in this season's list of hopefuls is 19 year old Canadian model, Chantelle Brown-Young, who at the age of four, was diagnosed with the rare skin disorder vitiligo; the same condition that reportedly afflicted pop icon Michael Jackson.
  According to the National Institutes of Health, the disorder is believed to destroy pigment producing skin cells, causing white patches, which are more noticeable on naturally dark skin. In Brown-Young's case, these patches are nearly symmetrical.
The returning judges, in addition to Tyra Banks, include fashion public relations guru, Kelly Cutrone, and runway coach and fashion diva, J. Alexander (aka "Miss J.").   Photographer and photo shoot creative director, Yu Tsai, will also be joining the team. 
Should You Enter a Model Search or Contest?
The 14 model finalists will compete for the title of America's Next Top Model, a modeling contract with top modeling agency, Next Model Management, a $100,000 cash prize from GUESS, and an editorial spread in Nylon Magazine.
The international destination this season will be Seoul, Korea with five of the episodes being filmed there.  One of the episodes will feature James of Royal Pirates, and the finale will have guest appearances from K-pop girl group 2NE1, boy band BTOB (Born to Beat), actor and model Lee Soo-hyuk, and fashion designer Lie Sang Bong.
Modeling in Asia - How To Get Signed to a Model Agency in Asia
Each week fans will have the opportunity to vote for their favorites online and via mobile based on each model's photo shoots and overall performance.  Fans can also vote for an eliminated contestant who will be able to return to the competition by receiving the most votes.
Representing the U.S. and Canada, the 14 finalists are:
THE GIRLS:

• Ivy Timlin, 20
Buffalo, New York
Height: 5' 10" (1.78 m)
• Shei Phan, 23
Oklahoma City, Oklahoma
Height: 5' 10" (1.78 m)
• Chantelle Brown-Young, 19
Toronto, Canada
Height: 5' 9" (1.75 m)
• Mirjana Puhar, 18
Charlotte, North Carolina
Height: 5' 9.5" (1.76 m) 
• Raelia Lewis, 22
Philadelphia, Pennsylvania
Height: 6' 0.5" (1.84 m)
• Kari Calhoun, 23
Dallas, Texas
Height: 5' 10" (1.78 m)
• Lenox Tillman, 19
Newnan, Georgia
Height: 5' 10" (1.78 m)
THE GUYS:
• Keith Carlos, 26
Bridgeport, Connecticut
Height: 6' 1" (1.85 m)
• Romeo Tostado, 23
Salinas, California
Height: 5' 11.5" (1.82 m)
• Will Jardell, 23
Nederland, Texas
Height: 6' 5" (1.96 m)
• Denzel Wells, 23
Houston, Texas
Height: 5' 10.5" (1.79 m)
• Ben Schreen, 24
Waverly, Iowa
Height: 6' 3.5" (1.92 m)
• Adam Smith, 26
Memphis, TN
Height: 5' 10.5" (1.79 m)
• Matthew Smith, 24
Highlands Ranch, Colorado
Height: 6' 4.5" (1.94 m)
Cycle 21 of America's Next Top Model will premiere Monday, August 18 , 2014 at 9 PM.    
America's Next Top Model Past Show Recaps