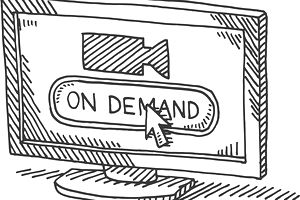 In a previous article, we looked at three (3) video platforms that have positioned themselves as respectable alternatives to Google's YouTube for your video marketing needs (see part 1 here). Thanks to advanced video technology that is increasingly accessible and inexpensive, Internet marketers can select non-YouTube options based on their needs and niche market profile.
The growth of video marketing will not cease anytime soon, nor will the growth of video sharing platforms and hosting services that have followed in YouTube's footsteps.
However, it's still buyer beware when it comes to choosing what's right for you. Already there are several websites worth investigating for your business needs, including the following:  
1. Vzaar
Headquartered in London, United Kingdom, the video hosting service Vzaar ("video bazaar") has grown into a business-oriented tool offering streaming, embedding, video storage and sharing.   Founded in 2007 by former eBay employees, the company opened up U.S. sales and support offices five years later to better serve the American market.
Unlike YouTube and Vimeo, Vzaar has oriented its business to hosting commercial – not entertainment – videos. A good comparable video hosting service is Wistia (discussed in Part 1), since both companies offer video control branding. In addition, its privacy settings and controls help you protect video content from being stolen. Actions such as replacing videos do not require manual changes to the embedded code on your website.
Other important features include:
Dropbox uploading
End-of-video CTA (Call to action)
Mobile-friendly playback
Multi-language subtitles
Team collaboration
Video SEO
Vzaar's paid plans begin at twenty dollars USD monthly, but you may have to go to the $60 per month plan to get most of the important benefits.
2. Dailymotion to Capture a Piece of Europe
If you want to get more website traffic from Europe, Paris, France-based Dailymotion may be a good option since it caters to general users, independents, and online businesses alike. It is one of the largest video platforms in the world, available in thirty-five (35) countries and eigtheen languages. In recent years, it has expanded its international presence by adding offices in London (2008), New York (2009), San Francisco (2011), and Tokyo (2013).
One of its best innovations is its mobile video sharing application for Android, Apple iOS and even PlayStation 4 to better market to the gaming crowd. Although lacking the wide range of business tools of competing video sites, Dailymotion is still the biggest video platform based in Europe and is quickly gaining traction in the U.S. At 120 million monthly views, Dailymotion offers publishers great opportunities for increased exposure.
3. BrightCove
Founded in 2004 by Jeremy Allaire and Bob Mason, Boston-based BrightCove has carved itself a niche as a top-notch online video management platform. The BrightCove Studio is aimed at professional video publishers looking to create, distribute and eventually make money through the creation of video player widgets.
BrightCove offers a complete suite of features that includes analytics, lead capture services, and live video streaming. You also have:
Mobile-friendly playback
SEO-optimized video portal creation
Social media sharing
Video academy learning center.
Conscious of how budget limitations can affect upstart entrepreneurs, BrightCove offers usage-dependent pricing schemes.
When considering video marketing as part of your Internet marketing mix, it's easy to default to Google's YouTube as the best option to fulfill you immediate needs. In many cases as a beginner, that may very well be the case. However, you should still be aware of other video platforms, especially those that are well suited to push your business to the next level. The three companies mentioned in this article, as well as others, are a further indication that great options exist and will continue to emerge.