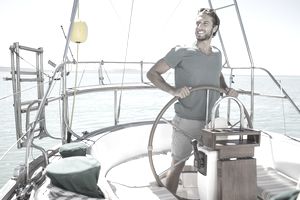 Company Overview
Allstate Insurance was founded in 1931 and is a recognized name in personal insurance in the U.S. It is the 2nd largest auto insurer in the nation. The company offers personal insurance products including homeowners, life, auto, motorcycle and boat insurance all across the United States.  You may find Allstate boat insurance surprisingly affordable. The company website claims to offer to protect your boat for around $20 a month.
Financial Stability and Company Recognitions
Allstate has an "A+ Superior" financial strength rating with A.M. Best insurance rating organization and has a top ranking in Fortune magazine as one of America's most admired companies. In 1991, Allstate became a publicly traded entity. Allstate has many locations but the average rating for most locations with the Better Business Bureau ranges from "A" to "A-". This is a very good customer satisfaction rating for such a large company.
Boat Insurance Policy
Standard boat insurance typically covers damage that results from a collision, fire, lightening, theft or vandalism and in some cases may cover losses occurring on land. You should consult with a company representative if you need additional coverage options and to find out about specific exclusions to a boat insurance policy. Allstate offers the following boat insurance coverage options to keep you property protected while your vessel is on the water:
Watercraft medical payments coverage: Pays for medical expenses for you or your passengers is anyone is injured during an accident.
Watercraft liability coverage: In a covered accident, this coverage pays for medical and other expenses of other people injured and the cost of repairing or replacing their boat or other property damaged.
Boat trailer coverage: Pays costs for repairing damages to your trailer resulting from a boating accident or other incident.
Property coverage: Covers the costs for repairing your boat with involves with another boat, dock, debris, pier or buoy or losses resulting from fire, theft, or vandalism.
Additional boat equipment: Pays to cover losses to boat accessories including anchors, navigation gear, life jackets, etc.
Personal effect coverage: This covers your fishing equipment or other personal belonging if the becomes lost, stolen or damaged.
Repair cost: Covers repair work to your boat, motor, equipment or trailer. There are no applicable deductible or depreciation costs.
Agreed value option: Pays value of boat at the beginning of your policy period regardless of depreciation.
Emergency services: Pays the costs of towing, labor, fuel, oil or battery delivery is your boat break down.
Uninsured watercraft coverage: Covers your injuries to you, your family or other passengers in your boat if you are involved in an accident with an uninsured boater.
Discounts
Allstate offers several ways for you to save on your boat insurance premium including the following discounts:
Boat Education Discount: You can qualify for a 5% discount by taking approved boat safety classes. (The website also offers boaters several helpful boat safety resources including videos about boat safety, towing your boat and simplifying the insurance claims process.)
Homeowner: Just by owning your own home, townhouse, condo or mobile home; you qualify for a 10% discount.
Easy Pay Plan: If you set your boat insurance premium payments up to be automatically deducted from your bank account, you will save 5% on your insurance payments. (This plan is not available in all states.)
Multi Policy: By combining your homeowners and boat policy, you can save up to 20% on your boat insurance premium.
Full Pay: By paying your full premium upfront, you can save 10%.
Final Thoughts
If you already have auto and homeowners insurance through Allstate, you may be able to save up to 20 percent on a boat insurance policy. The discounts are attractive; however, if you need comprehensive marine coverage including oil spill and wreckage coverage, you may not be able to get as much coverage as desired.
For homeowners or auto policy holders who just need basic boat or watercraft coverage for a vessel they use occasionally, Allstate is a good option to consider and provides affordable rates. All insurance coverage options and discounts are not available in every state. To learn more about boat/watercraft coverage or to receive a quote, you can visit the Allstate website or call 1-866-601-BOAT. While you are there, you can use the agent locator to find a local Allstate agent's office.