What You Need to Know About the Air Force Officer Qualifying Test
Facts About the AFOQT Scores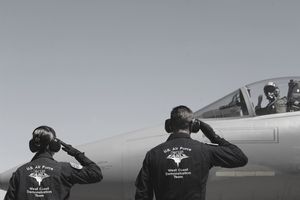 The Air Force Officer Qualifying Test is used to select college graduates for entry level officer positions in the U.S. Air Force. It helps determine which military occupation would be the best fit. 
The AFOQT was revised in 2005 and 2015. The 2015 revision uses a new Form T metric. Those who have taken the test previously have a Form S score that will be converted to the Form T metric.
The 2015 revision of the AFOQT makes several changes.
It has a new reading comprehension test that was based on officer professional military education materials. It tests for instrument comprehension with modernized instrument displays. It has a situational judgment test that uses realistic scenarios.
What does the AFOQT Measure?
The updated AFOQT assesses candidates on verbal analogies, arithmetic reasoning, word knowledge, math knowledge, reading comprehension, physical science, table reading, instrument comprehension, block counting, aviation information and situational judgment.  
What Changes Were Made in the Form T AFOQT?
The test questions were updated throughout the test. Specific sections were also changed.
Reading Comprehension subtest was added, and its score contributes to the composite scores for Verbal and Academic Aptitude. It is based on being able to understand the content of officer Professional Military Education (PME).
Situational Judgment subtest was added. It scores how you use judgment in interpersonal situations that an officer is likely to encounter.
Instrument Comprehension subtest now reflects the graphics and modern instrumentation of aircraft.
Physical Science subtest replaces General Science as it now focuses on the physical sciences.
Subtests
The subtests are: Verbal Analogies, Arithmetic Reasoning, Word Knowledge, Math Knowledge, Reading Comprehension, Situational Judgment Test, Self-Description Inventory, Physical Science, Table Reading, Instrument Comprehension, Block Counting, Aviation Information
Composite Scores
Scores from the subtests generate verbal, quantitative, academic, pilot, combat systems operator and air battle manager composite scores.
Pilot Composite Score:  It is used as part of the overall Pilot Candidate Selection Method (PSCM) score. Subtests included: Math Knowledge, Table Reading, Instrument Comprehension, Aviation Information.
Combat Systems Officer (CSO): This was formerly the Navigator-Technical composite. Subtests included: Word Knowledge, Math Knowledge, Table Reading, Block Counting.
Air Battle Manager (ABM): In addition to elements of the pilot composite, it includes the subtests for verbal aptitude and spatial ability. Subtests included: Verbal Analogies, Math Knowledge, Table Reading, Instrument Comprehension, Block Counting, Aviation Information.
Academic Aptitude: this composite includes the verbal and quantitative composites
Verbal Composite: Verbal Analogies, Word Knowledge, Reading Comprehension.
Quantitative Composite: Arithmetic Reasoning, Math Knowledge.
Situational Judgment
Time Required
The total time required is almost five hours, with two breaks.
Test Format
All questions are multiple-choice with four or five possible answers. You are scored on the number of correct answers and not penalized for incorrect answers.
What is the Passing Percentile for Each Category?
The test does not have pass or fail scores. Obviously, the better you score, the better your chances are. Each commission source determines what scores are needed to be selected or considered for their programs.