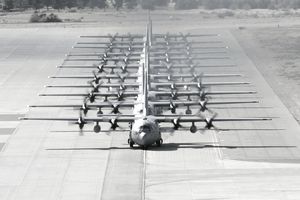 3D1X6, Airfield Systems AFSC is officially established on November 1, 2009. It was created by converting AFSC 2E1X2. Airfield Systems specialists install, remove, relocate, modify, deploy, and maintain fixed and mobile meteorological, navigational, and air traffic control ground-to-air radio systems. They accomplish flight inspection duties for navigational aids. They also analyze equipment performance trends, and supervise Airfield Systems maintenance activities.
Specific Duties
Specific duties of this AFSC include:
Supervises airfield systems maintenance activities. Oversees work in progress and reviews completed repairs for sound maintenance practices. Establishes requirements for maintenance and support equipment, tools, and spare parts. Requisitions, accounts for, and turns in supplies and material. Diagnoses and recommends equipment repair, replacement, or depot overhaul. Certifies navigation facilities after repair actions or flight inspections. Interprets inspection findings and determines adequacy of corrective action. Reviews and ensures compliance with maintenance management publications and procedures. Develops and enforces safety standards for Airfield Systems activities.
Resolves technical problems and improves maintenance methods and techniques. Interprets technical specifications and provides guidance. Solves technical problems requiring interpretation of schematic, logic and wiring diagrams.
Installs, removes, and relocates Airfield Systems equipment. Studies system characteristics, local terrain, and planned base facilities and requirements. Determines equipment position based on plans, diagrams, and specifications. Checks and inventories equipment and project materials for serviceability.
Assembles, connects, and wires components, assemblies, and antenna systems. Performs operational tests, adjusts, and aligns equipment. Completes commissioning flight inspections for new navigational aids.
Prepares equipment for deployment. Deploys, sets up, and activates transportable Airfield Systems equipment. Completes navigation systems flight inspections at deployed locations.
Maintains Airfield Systems equipment. Uses specialized test equipment and software controlled diagnostics to isolate malfunctions. Repairs mechanical and electrical assemblies and subassemblies. Tunes, aligns, and adjusts equipment. Completes flight inspections on navigational aids. Cleans and lubricates equipment. Performs corrosion control. Modifies equipment in accordance with technical directives. Completes performance tests and evaluates results to ensure proper system operation. Initiates action to correct unsatisfactory equipment performance trends.
Job Training
Initial Skills Training (Tech School): AF Technical School graduation results in the award of a 3-skill level (apprentice). Following Air Force Basic Training, airmen in this AFSC attend the following course(s):
Course # E3ABR3D136 00AA, Airfield Systems Specialist course at Keesler AFB, MS - approximately 115 class days.
Certification Training: After tech school individuals report to their permanent duty assignment, where they are entered into 5-level (technician) upgrade training. This training is a combination of on-the-job task certification, and enrollment in a correspondance course called a Career Development Course (CDC). Once the airman's trainer(s) have certified that they are qualified to perform all tasks related to that assignment, and once they complete the CDC, including the final closed-book written test, they are upgraded to the 5-skill level, and are considered to be "certified" to perform their job with minimal supervision.
Advanced Training: Upon achieving the rank of Staff Sergeant, airmen are entered into 7-level (craftsman) training. A craftsman can expect to fill various supervisory and management positions such as shift leader, element NCOIC (Noncommissioned Officer in Charge), flight superintendent, and various staff positions.
Upon promotion to the rank of Senior Master Sergeant, personnel convert to AFSC 3D190, Cyber Operations Superintendent. 3D190 personnel provide direct supervision and management to personnel in AFSCs 3D1X1, 3D1X2, 3D1X3, 3D1X4, 3D1X5, 3D1X6 and 3D0X7. A 9-level can expect to fill positions such as flight chief, superintendent, and various staff NCOIC jobs.
Assignment Locations: Virtually any Air Force Base with an airfield.
Average Promotion Times (Time in Service)
Airman (E-2): 6 months
Airman First Class (E-3): 16 months
Senior Airman (E-4): 3 years
Staff Sergeant (E-5): 4.85 years
Technical Sergeant (E-6): 10.88 years
Master Sergeant (E-7): 16.56 years
Senior Master Sergeant (E-8): 20.47 years
Chief Master Sergeant (E-9): 23.57 years
Required ASVAB Composite Score: E-70
Security Clearance Requirement: Secret
Other Requirements
Must be a US Citizen
Completion of high school is mandatory.
Additional courses in physics, mathematics, and a basic knowledge of computers are desirable.
Normal color vision
The ability to obtain a government license is mandatory.
Freedom from fear of heights.