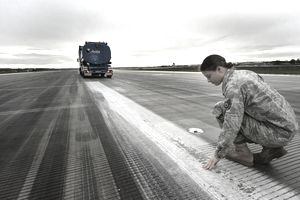 Specialty Summary
Supervises and performs airfield management functions and activities. Coordinates with aircrews, air traffic control, and various base agencies that provide for safe operation of aircraft in the airfield environment and through national and international airspace. Related DoD Occupational Subgroup: 556.
Duties and Responsibilities
Procures, maintains, and produces information on safe operation of aircraft through the national and international airspace system.
Information includes flight plans, Flight Information Publications, aeronautical charts and maps, Notice to Airmen (NOTAM), local airfield and navigational aid status, and weather information.
Directs, assists, and provides aircrews with information and services to accomplish operational activities relating to airfield management and flight planning. Coordinates with base agencies to meet aircrew requirements for billeting, messing, refueling, transportation, and transient aircraft maintenance.
Inspects airfields. Plans and coordinates airfield construction. Ensures a safe operating environment for personnel and aircraft operation.
Performs mobile airfield management functions and activities for worldwide deployment of USAF aircraft.
Performs and supervises airfield management activities. Coordinates with agencies such as air traffic control, civil engineers, and command post to ensure support of airfield management activities.
Specialty Qualifications
Knowledge. Knowledge is mandatory of: International Civil Aviation Organization; United States federal and military air regulation; aeronautical charts, maps, and publications; flight data and NOTAM systems; familiarity of navigational aids; basic aircraft design characteristics; fundamentals of meteorology; and principles of organization, purpose, operation, and management of airfield operational areas.
Education. For entry into this specialty, completion of high school with a course in typing is desirable.
Training. The following training is mandatory for award of the AFSC indicated:
1C731. Completion of a basic airfield management course.
1C771. Completion of the advanced airfield management course.
Experience.The following experience is mandatory for award of the AFSC indicated: (Note: See Explanation of Air Force Specialty Codes).
1C751. Qualification in and possession of AFSC 1C731. Also, experience in functions such as: flight data processing, NOTAM processing, emergency response actions, and maintaining flight information data and supportive displays.
1C771. Qualification in and possession of AFSC 1C751. Also, experience performing or supervising functions such as: airfield inspections, coordination of airfield construction or repairs, processing airfield waivers, or conducting airfield surveys of non-DoD airfields for use of USAF aircraft.
1C791. Qualification in and possession of AFSC 1C771. Also, experience managing functions such as airfield management activities, preparing or reviewing policies and directives for airfield management or ensuring coordination with agencies to improve airfield management functions.
Other.The following items are mandatory as indicated:
For entry into this specialty, normal color vision as defined in AFI 48-123, Medical Examination and Standards.
For entry, award, and retention of these AFSCs:
Ability to speak distinctly.
Qualification to operate a government vehicle according to AFI 24-301, Vehicle Operations.
For award and retention of AFSC 1C731/51/71/91/00, eligibility for a Secret security clearance according to AFI 31-501, Personnel Security Program Management.
Strenght Req: G
Physical Profile 333233
Citizenship Yes
Required Appitude Score : A-45 (Changed to A-41, effective 1 Jul 04).
Technical Training:
Course #: E3ABR1C731
Length (Days): 56
Detailed Career and Training Information for This Job
Possible Assignments