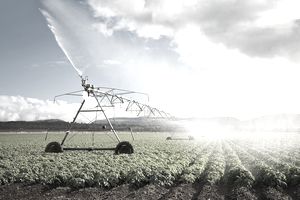 Agricultural engineers, according to the American Society of Agricultural and Biological Engineers (ASABE), apply "engineering principles to any process associated with producing agriculturally based goods and management of our natural resources" (Finding Solutions for Life on a Small Planet). They design agricultural machinery, equipment, sensors, processes and structures, and solve problems related to farming.
Quick Facts
In 2016, agricultural engineers earned a median annual salary of $73,640.
There were just 3,000 people who worked in this occupation in 2014.
The job outlook for agricultural engineers is poor, according to the U.S. Bureau of Labor Statistics. This government agency expects employment to grow more slowly than the average for all occupations through 2024.
Engineering firms, the Federal government and state governments, and food manufacturers are the primary employers in this field.
Jobs are typically full time—usually 40 hours per week—with some additional hours as well. Engineers are considered exempt employees under the U.S. Federal Labor Standards Act and are therefore not eligible for overtime pay.
Since their work often involves being outdoors, the weather can affect their schedules. They work longer hours when the weather is good because they won't have that opportunity when it is inclement.
A Day In an Agricultural Engineer's Life
To learn about agricultural engineers' duties, we looked at job announcements on Indeed.com. Here are some things you can expect to do if you decide to work in this occupation:
"Design agricultural machinery components & equipment, using computer-aided design (CAD) technology"
"Create engineering documents as needed to satisfy project scope"
"Maintain and repair automation equipment to ensure automation success"
"Interact directly with growers, consultants and agribusiness companies"
"Provide engineering design and support for civil/agricultural related projects"
How to Become an Agricultural Engineer
To work as an agricultural engineer, you will have to first earn at least a bachelor's degree in engineering with a concentration in agricultural engineering. An aptitude for math is critical. Your degree should come from a program accredited by ABET. ABET is an international organization that accredits engineering programs in 24 countries including the United States. Use ABET's Accredited Program Search to find colleges. It will usually take four years to complete a bachelor's degree which combines classroom, laboratory, and field studies.
Engineers who offer their services directly to the public must be licensed. These licensed engineers are called Professional Engineers (PE). Candidates for licensure must have a degree from an ABET-accredited program and about four years of relevant work experience. They must also pass the Fundamentals of Engineering (FE) exam and the Professional Engineering (PE) exam, both administered by NCEES (the National Council of Examines for Engineering and Surveying).
Other requirements vary by state. The Licensed Occupations Tool from CareerOneStop will help you learn about the licensing requirements in the state in which you plan to work.
What Soft Skills Do You Need?
In addition to the technical skills you acquire through your education, you will also need certain soft skills to succeed as an agricultural engineer. They are:
Problem Solving:  A significant part of your job will be identifying problems and coming up with workable solutions to them.
Critical Thinking: To solve problems and make decisions you will have to know how to compare your options and choose the most viable ones.
Is This Career a Good Fit for You?
MBTI Personality Types: ENTJ, INTJ, ESTJ, ISTJ, ESTP (Tieger, Paul D., Barron, Barbara, and Tieger, Kelly. (2014)  Do What You Are. NY: Hatchette Book Group.)
Take the Should You Become an Engineer Quiz to see if this career is right for you.
Occupations With Related Activities and Tasks
| | | | |
| --- | --- | --- | --- |
|   | Description | Annual Salary (2015) | Educational Requirements |
| Environmental Engineer | Uses engineering principles as well as knowledge of soil science, chemistry, and biology to solve environmental problems. | $84,560 | Bachelor's degree in environmental engineering |
| Engineering Technician | Assists engineers and scientists. | $61,260 | Associate degree in engineering technology |
| | Designs buildings and other structures. | $76,100 | Professional degree in Architecture (Bachelor's or Master's) |
Sources:
Bureau of Labor Statistics, U.S. Department of Labor, Occupational Outlook Handbook, 2016-17 (visited January 26, 2017).
Employment and Training Administration, U.S. Department of Labor, O*NET Online (visited January 26, 2017).