AEC Cares: Covenant House Georgia
AEC Cares volunteer work revitalizing the Covenant House of Georgia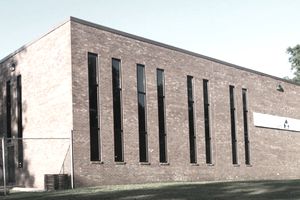 AEC Cares is back once again and now it's Georgia's turn. CMD, AIA, and Hanley Wood Media have started the process to revitalize the Covenant House of Georgia (CHGA) for AEC Cares' fifth annual project. This year they have focused on a project located in Atlanta which will be renovated on May 13, 2015.
How AEC Cares Helps
For the past five years, AEC Cares have helped different organizations by gathering construction professionals and industry leaders offering their time for a one-day on completing this project.
AEC Cares offers the ability for sponsors who would like to participate and help make the difference in this type of volunteer work.Volunteer architects, landscape designers and contractors from Beck, Gilbane, Stevens-Wikinson, Dwell Design Studio, StudioA2 Design, Cooper Carry, 5G Studio, Skanska, Perkins+Will, Dargan Landscape Architects, Harrison Design, and Urban Agriculture are working together to transform Covenant House Georgia.
The AEC group start by reaching out in the local community and then finds contractors and industry leaders able to volunteer on this exciting and rewarding opportunity.Hanley Wood does all of the logistics for the Blitz Build lunch. CMD does all of the fundraising and event coordination. The collaboration is a holistic process because everyone involved brings something to the project. It's all voluntary, too. This year, AEC Cares have received material and financial donations from Kawneer Alcoa, USG, The Container Store, Holcin, The Vinyl Institute, Sherwin William, to name a few.
What is the Covenant House of Georgia
The Covenant House of Georgia is a shelter for homeless that opened its doors in more than 14 years ago. The shelter home has helped over 15,000 individuals during this period by taking care of them under 24/7. Covenant House today is the largest privately-funded charity in the Americas.
Covenant House is dedicated to serving to homeless, abandoned, abused, trafficked and exploited youth with absolute respect and unconditional love—helping homeless children, and protecting and safeguarding all children in need. Covenant House Georgia is a full partner of Covenant House International. Visit the Covenant House Georgia website to learn more about it.
AEC Cares Past Projects
CMD, AIA, and Hanley Wood Media have worked together bringing joy and rebuilding several institutions during the past five years. On 2011 and under the leadership of these industry leaders, five homes were rebuilt in New Orleans, homeless tees were also revitalized in Washington, additional facilities were rebuilt in Denver and last year a school building ​on the South side of Chicago was transformed, too. All this work requires volunteers and donations, so to be able to participate feel free to find additional information at http://www.AECcares.com.
About CMD 
CMD, the Inaugural Strategic Partner of the AIA, is a leading North American provider of construction information. CMD's diverse portfolio of innovative products and technologies includes national, regional and local project leads, marketing solutions and market intelligence to provide insight to construction industry professionals throughout the U.S. and Canada.
Visit the CMD website.