Advertising Words for Home Selling
Top attention-grabbing words that sell homes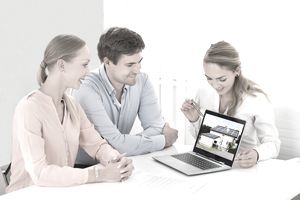 Real estate listings and classified ads always have pictures, because pictures are worth thousands of words, or so they say. However, homebuyers routinely make decisions to tour homes and attend open houses based on the strength of classified ads. Knowing the right words to use can help you compose just an effective ad to get your home sold.
Brainstorm Words Describe Your Home
Start writing your classified ad by listing all the adjectives and nouns that describe your home.
Let the words flow. Don't worry about the order or spelling, just write them down as quickly as they pop into your mind.
Avoid Negative Words
After brainstorming, review your list and cross off any that sound negative or misleading. For example:
Small or tiny
Your home or condo might be cozy but it is not small. Unless it is a true tiny home, built as a tiny home, don't say it.

 

Outdated
It may be original vintage but outdated denotes too much work. Vintage homes in pristine condition are sought after.

 

Oversized
If your home is the largest one in the neighborhood, it's a white elephant and should be priced accordingly. However, there's no need to draw attention to that fact.

 

Upside potential
Use only if you're clearly selling a fixer upper. Buyers can't envision potential and if they can, they will want to pay less for it.

 

Cramped
A home might be comfortable, but it is never cramped. Cramped can't be fixed.

 
Basement unit
Basements are hard to sell. If given a choice between looking at a basement or penthouse, which would you choose? A better choice is "lower level."

 

Ugly but cute
You might think this is clever, but a buyer may not get past the "ugly" part.

 

Decorating allowance
If you need to replace carpeting, for example, just do it. Buyers don't want extra work. Don't think a buyer wants to pick out their own carpeting and pay for it, they don't.

 
Appliance credit
If your appliances are on their last legs, replace them before putting your home on the market. Trends come and go. Lately, white appliances have lost appeal.

 

On busline
Although public transportation is important to urban buyers, some homebuyers imagine endless noise and fumes. A better choice is "public transportation available."

 

Near railroad tracks
Not everybody appreciates feeling the rumble of trains roar past. In fact, homes located by light rail or the train sell for a lot less than homes a few blocks away and take longer to sell.

 

Needs paint
If it needs paint, paint it. But don't advertise the home as having "fresh paint." Buyers tend to be suspicious and wonder why you had to recently paint the home.

 

Leaking roof
Nobody sets out to buy a house with a leaky roof. In fact, most buyers are afraid of roofs that need repair. Replace it and offer a roof certification.

 

Motivated seller
A motivated seller is a desperate seller, and desperate sellers sell for much less than market value. Instead, use "all offers considered."
Words That Sell Homes
Sell the sizzle, not the steak, is an adage that rings true when it comes to writing real estate classified ads. Think back to when you bought the home.
What made you buy it? What single feature made you write an offer? Play up those factors. Here are descriptive words to use:
Beautiful
Every homebuyer wants a beautiful home. Studies show that the word "beautiful" is very powerful, regardless of where or how it is used.

 

Turn-key
If your home is ready to move into, say so. Some agents use the phrase "all the works been done for you." It presents a clear picture of a home ready for occupancy.

 

Lovingly maintained
One of the greatest homebuyer fears is having to pour money into a home after closing. Homes that are well maintained require less initial upkeep.

 

Spacious
Buyers envision buying a home large enough for their needs. You might use other words that describe a big space such as huge or enormous. But don't say it if it is not true.

 

Backyard paradise
If your landscaping speaks volumes, play it up. Especially in warmer climates, back yards might be the main selling feature.

 
Open floor plan
A great floor plan can overcome many objections, including size. Good flow can maximize space. Most home buyers today want an open floor plan.

 

Remodeled to perfection
Let buyers know if you've made updates that enhance the home. But don't was it was "completely remodeled" unless the home was torn down to the studs or you get could get sued.

 

Huge master suite (or retreat)
The term "suite" lets buyers know the master bedroom has its own bath, which is a desirable feature.
Choose Short Descriptive Headlines
If you could choose one word to describe your home, what word comes to mind? What is most attractive about your home? If it is location, style size or updates, use those features to write an attention-grabbing headline. Look at how other agents describe homes in your neighborhood and swipe the best modifiers. Here are a few examples:
Stunning classic
Magnificent Mediterranean
Prestigious location
Finest street in (name of neighborhood)
Entertainer's delight
Charming cottage
Sparkling pool and private spa
Beautiful bungalow
Fabulous water views
Skyline view
Secret gardens
Upscale urban
Fair Housing Compliance
The Federal Fair Housing Act prohibits housing discrimination based on the following:
Race 
Color 
Religion
National origin 
Gender
Handicap/disability 
Familial status 
Your real estate agent or attorney will review inprint and online advertising to confirm that it complies with federal fair housing laws before it is published.
At the time of writing, Elizabeth Weintraub, CalBRE #00697006, is a Broker-Associate at Lyon Real Estate in Sacramento, California.