The Trials of Advertising During the Olympic Games
Strict Olympic Guidelines Make Marketing Tough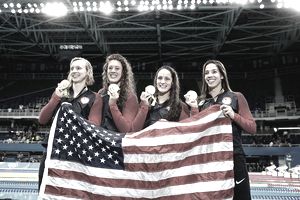 Every four years, great athletes from around the world gather in one place to compete for gold medals. The draw of millions of viewers all watching this event is a big one to brands. The trouble is, you really can't mention the Olympic Games unless you are an official sponsor – and being a sponsor means big bucks.
The official sponsors of the 2016 Olympic Games in Rio included Coca-Cola, GE, Omega, Panasonic, Samsung, Nissan, McDonald's, Visa and Procter & Gamble.
If you see them touting the Olympics and using all sorts of imagery and associated taglines, just know that they paid millions and millions for the privilege.
You have to watch what you say if you're not a multi-billion-dollar brand and you're not sponsoring the year's Olympic Games. Even hinting at the event can get you slapped with a cease and desist order and potentially some huge fines.
Words and Phrases You CANNOT Say
So you know you have to steer clear of saying words like Olympic Games and the city where they're taking place, but that's just the tip of a very large iceberg. Here are some of the words and phrases outlined by Team USA that will instantly get you into hot water: 
Olympic
Olympian
Team USA
Future Olympian
Gateway to gold
Go for the gold
Let the games begin
Paralympic
Pan Am Games
Olympiad
Paralympiad
Pan-American
Road to Rio
Road to Pyeongchang
Road to Tokyo
Rio 2016
Pyeongchang 2018
Tokyo 2020
Think that's tough? We're only just getting started. A 54-page guidelines manual is available online that goes into even more depth about "protecting the Olympic brand." Brands are also advised to stay away from anything that even implies a connection to the Olympics, with the following words also waving red flags:
Gold
Silver
Bronze
Medal
Effort
Performance
Challenge
Summer
Games
Sponsors
Victory
And if you think you can make up words to get around these huge advertising hurdles, think again. The following types of words/phrases are also outlawed:
Mathlympics
Aqualympics
Movielympics
Foodlympics
Shoplympics
Sexlympics
Laughlympics
Denverlympics
Teenlympics
Teamlympics
Sodalympics
It's also worth noting that you can't hashtag your way around the restrictions. Using any of these terms in a hashtag on social media will also get you in trouble.
Further Olympic Prohibitions to Be Aware Of
Many words and phrases have been outlawed, but you also have to take the visual aspect into consideration. You obviously can't use Olympic logos, but you also can't feature Olympic athletes in your ads and social posts, even if it's just to wish one of them good luck. You can't share or retweet anything from an official Olympic account or host any kind of Olympic-themed event.
In short, tread very carefully if you're planning on doing something based on the Olympics. You may find that it's just not worth the effort due to all the many roadblocks in your way.
Why the Intense Scrutiny?
In a word...Nike.
As Ad Week recently reported, it all comes down to the 1996 Olympic Games in Atlanta and a slick marketing campaign by Nike, who was NOT an official sponsor of the games.
This in itself is odd because Nike is the epitome of the competitive spirit. Nike gave sprinter Michael Johnson a pair of racing spikes, but they weren't just any old racing spikes. These were lightweight, engineered, and a dazzling gold color with a bright red Nike swoosh. This is classic product placement, and they were impossible to miss. 
Johnson's shoes were on screen while he was warming up. There was the Nike logo, large as life, when he was in the starting block. And when he won gold, he did it wearing those infamous gold shoes. Then, when he appeared on the cover of Time magazine, there were those dazzling gold shoes again, hanging around his neck.
This, plus the Nike Centre and flag giveaways to the crowds, meant that there was an enormous Nike presence at the 1996 Games – a presence that Nike did not pay for, which actually proved how brilliant the marketing strategy was.
 It completely overshadowed many of the official Olympic sponsors, including Nike competitor Reebok, a company that has paid in excess of $50 million for the rights to advertise at the event.
The result was something described as "ambush marketing," an apt name if ever there was one. Nike really had ambushed the games, but this was the last time any brand would get away with it. The Olympic committee and its army of lawyers severely tightened branding guidelines, specifically calling out the kinds of tactics that Nike had employed. Twenty years later, marketers and brands are working with handcuffs they cannot escape from.
You may still see some brands vaguely hinting at the Olympics, but it will be only the slightest of implications. They know they're risking the wrath of the Olympic Games if they do anything more.