Advertising Career Profile - Tom Carty and Walter Campbell
The Dynamic Duo Behind Some of the World's Greatest Ads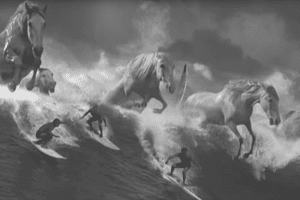 Advertising has had many superstar copywriters and art directors, but very few superstar teams. That's not to say they don't exist; the industry merely focuses on names and not pairings.
However, in the mid-1980's a team formed that created some of the most powerful, memorable and exciting commercials ever made. That team was Britain's Tom Carty and Walter Campbell, and to know their work is to know that you can tread the fine line of art and advertising, and still sell a whole lot of product.
They did not just create ads...they created masterpieces. 
 
How Tom Carty and Walter Campbell Got Started
When Walter Campbell graduated from Belfast College of Art & Design, he joined the now defunct BSB/Dorland (once the largest advertising agency in Britain after a merger with Saatchi & Saatchi in 1988). Tom Carty's story is slightly different. In true "The Secret of My Success" fashion, he joined BSB/Dorland straight from school, working his way up to the creative department from dispatch; a feat that would be almost impossible these days.
Aside from looking like two very different kinds of people, they shared similar interests. Both loved Manchester United, earned a living on market stalls, had an Irish Catholic upbringing, and neither of them drank alcohol (which was something of a miracle in the ad scene during the 80's). Above all, they shared the same passion for club culture, fashion and larger-than-life advertising.
They were hungry for success, ambitious to a fault, talented, confident (sometimes bordering on arrogant) and impossible to hold back.
So, they teamed up and formed one of the greatest copywriter/art director teams ever. Their work at BSB/Dorland, both before and after hours, landed them a full-time gig at TBWA, and from there they moved on to BBDO, working on Time Out magazine, BHS (British Home Stores) and breakthrough work for KISS FM.
Abbott Mead Vickers acquired BBDO ins 1991, creating the supershop AMV/BBDO and under the creative direction of the mighty David Abbott, Carty and Campbell produced some of the best work of their career, and of the 90s.
 
Memorable Work From Carty, Campbell, and Tony Kaye
In 1993 Carty and Campbell were handed a brief for Dunlop tires, and created a television commercial that was more of an event than a TV ad. It was filmic, surreal, filled with drama, cost a small fortune and employed directorial the talents of Tony Kaye (who went on to direct American History X before leaving the project in disgust). It's a commercial that received both hot and cold reviews from advertising pundits. You may notice elements of movies like The Cell and The Fall, mixed with a little Dali and something from a David Lynch nightmare.
DUNLOP - Tested for the Unexpected
However, the following work that they did on Volvo, and later Guinness, is revered.
 
Task: Take Volvo Away From The Boring Middle-Class
Volvo has always been considered the safe car to drive. And safe = boring. Carty and Campbell didn't want to throw away that long-standing heritage of safety; it was the brand's biggest asset. But at the same time, they wanted to take the car to a new audience that wasn't comprised of empty nesters and Sunday school teachers.
The ads they created put the Volvo firmly in the category of safe = cool. And with Tony Kaye behind the camera, they looked cool, too.
VOLVO - Tornado
VOLVO - Stuntman
 
Task: Bring Guinness To A Much Younger Audience
For most people in Britain, Guinness was an old man's drink. It was black, thick, old-fashioned and a working man's pint. Guinness was already turning the tide with its ads featuring Rutger Hauer. They were smart, beautifully filmed and well written. But Carty and Campbell really raised the game with "swimmer" and then "surfer" which brought Guinness to a younger crowd of stockbrokers, clubbers and even ad execs.
GUINNESS - Swimmer
GUINNESS - Surfer