Advertisers Betting on Boomers, Gen-X-ers, or Millenniums
Market Research Shows Boomer May Be Best Bet for Business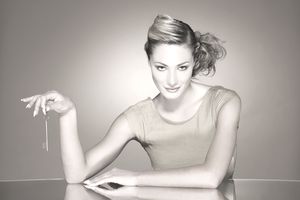 The American comedy TV series Grace and Frankie has a subplot on the challenges of aging gracefully.  Jane Fonda and Lily Tomlin are the stellar talent on which falls much of the burden of figuring out to be a boomer in the modern age.  
Season one and two of , which means that the series will be accessible to a large audience.  The ease of viewing Netflix video content increases the exposure of any film, which is good news for a series that might otherwise be overlooked by mainstream viewers.
In one of the episodes of Grace and Frankie, Brianna Hanson, who is the daughter of Grace and Robert, has become the head of the beauty products company that her mother founded and operated until she retired.  Brianna (played by June Diane Raphael) learns about a home-made personal hygiene lubricant that has been formulated by her mother's long-time friend Frankie. In the interest of return-on-investment (ROI), Brianna talks to her team about adding the lubricant to their product line.  Brianna's team is not enthusiastic.  "I was thinking of going younger," says one. "Older,' says Brianna.  "Younger," the team member counters.
While this is a light-hearted take on a marketing decision, determining which segment to target is not a simple decision.  And it is a decision that can substantially impact market share and ROI. 
The Re-Branding of Buick
It is easy to understand why Buick would want to re-brand.
 For decades, Buick cars have conveyed an image that can perhaps best be described as sedate, conventional, unremarkable, and maybe even a little boring.  The new Buick marketing campaign is determined to convince consumers that this is a new Buick, a Buick they would be proud to be seen in, and a Buick that is even a exciting to drive.
So knowing this about Buick, boomer consumers might be inclined to forgive the tenor of the re-branding marketing message.  Boomer consumers might even overlook the reference to shouting "Bingo."  But fewer boomer consumers are likely to overlook the pejorative use of the word "Grandma."
The New Buick ad includes an image of a very cute, fresh-faced Millennial woman at the wheel and reads: 
"We engineered all the "Grandma" out of it.  Introducing Buick Encore.  A luxury crossover with so many things on your checklist, you might be tempted to shout, "Bingo!"  But don't.  Please don't.  Discover more at buick.com." 
Aflack's Word Play with Prospectors and Claims
In an elaborate put-down of prospectors - and mules, if you can believe it - Aflac initiated a not-so-funny advertising campaign that plays to snobbery and self-importance. Presumptuously taking the point of view (POV) of a market segment accustomed to denigrating others, Aflac encourages consumers to align with a mean-spirited brand image.
Consumers are encouraged to feel superior compared to a prospector with a claim:
"...you're no prospector who's totally desperate, with an unruly mule and a mouth untouched by modern dentistry..."
Consumers are expected to identify with smart, youthful, attractive peers who might also have a claim (insurance) of a different sort. 
"...a savvy young couple who showers regularly..."
In the battle for market share, some advertisers loose sight of their market.  A good example of this occurs when marketers wear Boomer Blinders.  Or when marketing creatives believe it is okay to write disparagingly about one market segment in the hopes of attracting another market segment. From a marketing perspective, these advertising endeavors are "cheap shots" that grasp at differentiation focused on self-image and generational identification.  Marketing that shouts about lifestyle preferences without considering whether other potential target markets are offended by the message may regret the strategy over the long run.