Administration/Business Resume Examples
Resumes for HR, Marketing, Management, and More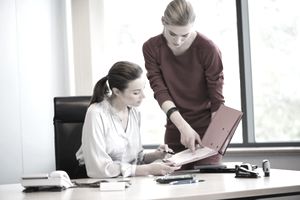 You can strengthen your own resume by first looking at sample resumes. Take a look at these administration and business resume examples for inspiration to construct a professional and effective resume of your own.
Samples include resumes in human resources, consulting, marketing, public relations, management, administration, and more.
Also read below for tips on constructing a strong resume for a job in administration or business.
Tips for Creating a Strong Administration/Business Resume
Consider a resume summary. Consider including a resume summary statement at the top of your resume. It is a great way to include a brief statement the highlights your skills and explains why you are an ideal candidate for the job.
Highlight your credentials. Different business and administration jobs require specific degrees and certifications, so be sure to highlight your education. Include an "Education" section, and consider placing it towards the top of your resume.
Include all relevant experiences. It is essential to highlight all your relevant experience. If you are changing careers or have limited work experience, consider including internships, volunteer activities, and other experiences that are related to the job.
Emphasize your accomplishments. Rather than simply state your responsibilities under each job, also include specific accomplishments or successes.
You might mention a project you lead or an idea you spearheaded that helped increase efficiency. When appropriate, include dollar signs or percentages to show your successes.
Tailor your resume to fit the job and company. Individualize each resume to fit the specific job, as well as the company. Include keywords from the job listing in your resume (you might include these words in your resume summary or your descriptions of accomplishments).
If the job requires particular skills, be sure to highlight these on your resume.
Avoid clichés. Hiring managers have to look at hundreds of resumes, so avoid overused phrases that mean very little. For example, phrases like "hard worker" or "goes above and beyond" are commonplace, and don't really show your abilities. Use keywords, specific accomplishments, and a strong resume summary to make yourself stand out.
Administration/Business Resume Examples
Customer Service
Customer service is all about keeping customers happy to retain them and thus increase sales. Here are some critical customer service skills to highlight on your resume. See below for a customer service resume example.
Human Resources
Human resources jobs involve recruiting and hiring job applicants. People in human resources also manage and administer benefits to employees, and handle a variety of workplace issues. Here is a list of the top human resources skills. Consider including some of these skill words in your resume, depending on the job you are applying for. Also see below for some examples of human resources resumes.
Managerial
Managerial jobs involve overseeing the work of employees.
Managers have to train and motivate employees and help them reach company goals. Consider including some of these managerial skills in your resume, and read below for sample resumes.
Technology
Many businesses hire employees for jobs that combine business and technological skills. Even if your job is not specifically in information technology (IT), it is almost always beneficial to have some technology skills included on your resume. Read below for sample resumes that focus on a combination of business and technology.
Marketing
Marketers help explain (and promote) a company and its products to the public. They might work in advertising, analytics, public relations, research, or many other marketing fields. Here is a list of marketing skills to consider using in your resume.
See below for a list of marketing resumes for a variety of jobs.
Administrative
Administrative positions involve running day-to-day operations at a company. Administrators might help greet guests, answer calls, manage paperwork, and more. They need a variety of administrative/secretarial skills, ranging from communication to technology to organization. Read below for samples of administrative resumes.