AARP Visa Credit Card Review
5 Percent Cash Back on All Purchases for the First 6 Months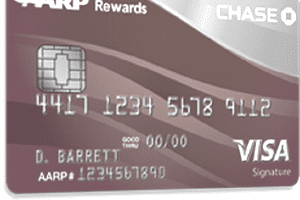 With the AARP Visa Card, you'll get 0 percent interest on purchases and balance transfers for the first year. And there's no annual fee.
What Is the AARP?
AARP, Inc., formerly the American Association of Retired Persons, is a United States-based membership and interest group, founded in 1958 by Ethel Percy Andrus, Ph.D., a retired educator from California, and Leonard Davis, founder of Colonial Penn Group of insurance companies.
AARP Visa Credit Card Basics
This Visa card is designed for AARP members with fair to excellent credit (660+) who want a rich cash-back rewards card.
This credit card offers 0 percent APR on purchases and balance transfers for first 12 months, then the purchase APR, which is between 13.24 and 19.24 percent after the introductory period. This card also carries a penalty APR of 29.99 percent.
In addition to the penalty APR, the AARP Visa carries fees that customers should be aware of:
| | |
| --- | --- |
| AARP Visa Fees |   |
| Annual Fee | None |
| Balance Transfer Fee | 3 percent of balance |
| Late Payment Fee | Up to $35 |
| Returned Payment Fee | Up to $35 |
| Over-Limit Fee | Up to $35 |
Pros and Rewards of the AARP Visa
Pros 
5 percent cash back for first six months.
0 percent APR on purchases and balance transfers for first year.
No annual fee.
No rebate limit.
Rewards 
3 percent back on restaurant purchases
3 percent back on gas station purchases
1 percent cash back on all other purchases
AARP Visa Card Review
Being a member of AARP has many great benefits, especially when it comes to financial services. You get great rates on life and property insurance, and the organization has many excellent loan products. The AARP Visa Card from Chase is one of those.
You earn 3 percent, or three points per dollar, on travel purchases, which includes airline tickets, car rentals, cruises, hotels, passenger railways and travel agencies.
You earn 1 percent, or one point, on all other purchases. Each point translates to one cent, so 2,500 points can be redeemed for a $25 check, for example.
You earn a full 5 percent on all your purchases during the first six months you have the card.
Points can be redeemed for cash, gift cards or statement credits, or you can use them to pay your AARP membership. There's no cap on the number of points that you can earn in the program.
In addition, there's a 0 percent interest rate on all purchases and balance transfers for the first year. The balance transfer fee is a modest 3 percent. After that, the APR is as low as 13.24%, if you qualify.
Recommendation
This card is a great deal, in keeping with all of the other good financial products AARP offers. This card is competitive with the best cash-back rewards cards such as the Bank of America Cash Rewards Visa Card.
Credit card pricing, terms, and rewards are subject to change. Check the card issuer's website for the latest credit card deals.