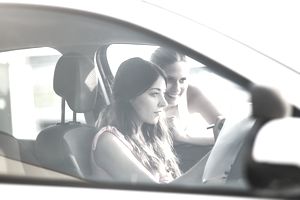 Transitioning into adulthood goes rather fast for today's teenagers. Common milestones include getting a cell phone, a first job, a driver's license, and of course car insurance. Getting started is usually the most overwhelming part.
Best Tip: Finding a good insurance agent to explain all the details to you is probably the best route to go. I am not joking when I say paying attention and taking notes are recommended.
Car insurance is important! And it can be hard to remember if you blow through the process and never think about it again.
Reference: A great resource to reference for your car insurance needs is also important. Learning what car insurance is for, all about proof of insurance id cards, and different types of coverage will give you a good foundation of what you are getting into.
So the articles above tell you all about car insurance and its different types of coverage, but what happens when you are in an accident? Knowing what to do can really settle your nerves in a stressful situation. So this one, How to File a Car Insurance Claim, is pretty important. It'll tell you what information you will need at the time of the incident.
Shopping for Car Insurance: Its always good to have a plan when you start your car insurance shopping. Learn what to expect when getting car insurance for the first time, how to go about getting the cheapest policy, and know about all the best discounts before starting your search.
A Couple Other Points of Interest: Knowing what cars are the best for teens and which ones to avoid can save you tons of money. The right car will have the best safety features and a good car insurance rate. I am not sure if you have heard yet, but car insurance for teens is quite expensive.
Words of Wisdom: Becoming a good driver takes time. It is kind of hard when there are so many distractions out there today. As an agent, I have seen very young drivers shaken to the core after a major accident. It takes many of them a long time to get back behind the wheel. Don't let that happen to you. Don't take your life, your friend's life, or the public's life for granted. 
So many possibilities exist which can make your insurance experience a bumpy one. Check out some safety tips, causes of distracted driving, keyed car prevention tips, and just in case its crossed your mind, some very valid reasons why you should not print fake auto insurance cards.
Looking for More on Learning About Car Insurance?