A Review of the Basics of MyCheckFree Bill Pay
The pros and cons of this online service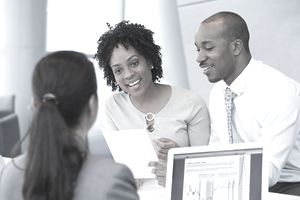 If you've ever tired of sending multiple payments for different bills each month, then MyCheckFree might be the service for you. With this review of MyCheckFree, learn what this service is, how it works and get a break down of the pros and cons as well. 
What Is MyCheckFree?
MyCheckFree is a free service allowing you to pay bills online. Instead of writing checks and sending them to service providers, you can use MyCheckFree to make electronic payments.
This can make paying the bills much more convenient.
What Are the Perks of MyCheckFree?
The main attraction of MyCheckFree is the electronic payment feature. The service can allow you to save time and trips to the mailbox, reduce errors and track your finances. You may also pay more securely by paying online, especially if you're concerned about strangers accessing your signature or account number on checks. If you've never used electronic payments, MyCheckFree will help you make the transition to 21st century bill paying.
MyCheckFree is not only beneficial because it allows for electronic payments but also because it allows you to pay bills from one place. You don't have to login to each account to pay electronically or set up ACH debit for every service you use, so it helps you centralize things. It also means you don't have to store and memorize multiple passwords for each site you do business with.
MyCheckFree Fees
As its name implies, the MyCheckFree service is generally free. What's more, because it's electronic, you also save money on postage. However, you have to pay a fee for emergency same-day payments. That means you should avoid last-minute payments, but if money is tight, this might be necessary from time to time.
A Variety of Payees
Unfortunately, MyCheckFree has a limited number of payees. You can only pay eBills from participating service providers. There are hundreds of providers partnered with MyCheckFree, but don't count on every company you do business with to be one of them. Your local utility company may not be on the list. If that's the case, you may want to look into using the online bill pay method with your bank.
Also, keep in mind that it may be possible to 'pay anybody' with other CheckFree services, but MyCheckFree (note the 'My') is a free service with limited partnerships.
Wrapping Up 
MyCheckFree is a decent option if all of your payees are available. However, that's most likely not the case. And if you're unable or unwilling to set up online bill pay at your bank, you might just have to pay a few bills the old fashioned way.
For now, using your bank's online bill pay service (which is often free) is probably a better option for one-stop-shopping. MyCheckFree might be handy if you switch banks often (because you'd just change your bank account instead of creating a list of payees from scratch), but how often do you switch banks?
You might also see if you can cut the middleman and sign up for auto debit.
With this method, the payee would collect money from your bank account on a given day of the month, without you needing to set up payments each time.