A Parent's Guide to Helping the Stuck-at-Home Grad
Top 8 Strategies to Help a College Grad Move On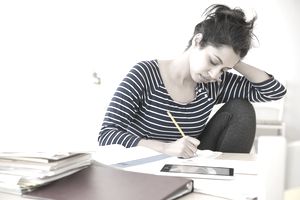 The job market has stranded many college graduates at home and created great worry on the part of parents and disillusionment for grads. Parents are often frustrated with the seeming lack of progress by their sons and daughterr, and the young grads feel trapped in their childhood homes and status.
How can young people break out of this stagnation and how can parents help them to move on with their lives?
This article will provide concrete and sometimes challenging measures that parents and grads can take to resolve this stalemate and launch their careers.
How to Help Stuck-at-Home Grads Move On
A key for parents will be focusing on the level of engagement that their grad has with the process of building a career, and resisting the temptation to nag about the final result (Why don't you have a job yet?).
Here are eight strategies for helping grads to move on. Not all will be relevant to your situation but several will usually be germane:
1. Informational Interviews. Encourage grads to do informational interviews with family friends, business associates, neighbors and college alumni. Have them contact their college Career Office and/or Alumni association for contacts in fields of interest. You might help to set the first one up with a friend to get them rolling. These meetings will help them to focus their interests, learn what employers want and showcase themselves.
Career experts agree that many jobs are allocated to candidates who come through internal referral channels.
2. Job Shadowing.When your grad meets an interesting contact, coach them to inquire about the feasibility of engaging in a job shadow. This observational experience will provide them with greater exposure to target fields and give employers a chance to get to know them.
3. Internships. Support your grad's effort to undertake an internship if it is normally required/preferred in their field of interest. You might need to accept that this experience will be unpaid and perhaps might even require enrollment in a college course (in that case consider local, inexpensive community colleges). Many employers prefer to hire former interns. At the very least it will differentiate your son or daughter from the masses of grads with no experience or proof of interest.
4. Temp Jobs. Consider temporary employment via an agency. During most recessions hiring picks up first on a temp basis as employers weigh whether they can afford more permanent staff. This is especially true now given employer uncertainty about health insurance costs.
5. Certifications. Investigate certifications or training which might qualify your grad for an initial job. Sometimes a short-term course will demonstrate interest and help a grad to meet minimal hiring standards. For example, the grad considering a healthcare career in the future might complete a Certified Nurse's Assistant course (CAN) prior to landing a nursing support position at a hospital.
6. Professional School. Consider professional school right away for the grad who has already made a sound choice of a career of interest.
Fields like Library Science, Speech Pathology, Nursing, Guidance Counseling and Physical Therapy require professional degrees for entry. Given how hard it is to land a good entry level job, it may make sense to move right on to grad school.
7. Volunteer Programs. Investigate volunteer service programs like AmeriCorps and the Peace Corps particularly if your grad is thinking about working in the not-for-profit sector. Many of these programs offer some compensation and benefits.
8. Interim Jobs. Finally, consider requiring your grad to make at least some contribution to their upkeep through an interim job. The ideal interim job will leave some daytime hours for networking and job search. Positions which involve public interaction like restaurant servers and front desk workers at hotels may also provide the opportunity to meet people who can be good contacts for professional track jobs.
In the end your grad can't control the whimsies of economic cycles but he or she can take constructive steps like these that will increase the chances of successfully launching a post-college career.
College Student Job Search Articles and Advice