A Guide to Residential Building Permits
Want a residential building permit? Let us demystify the process.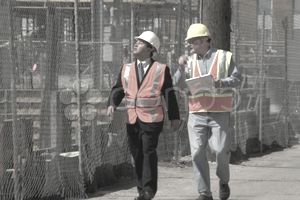 A Guide to Residential Building Permits
Building a house? ? Or just putting a shed in the garden? Depending on what you want to do and where you want to do it, you could need a residential building permit for each case. Exact rules can vary from one locality to another. Here's a guide to what often turns up in terms of prerequisites and procedures, to help manage your residential construction jobs properly.
Why Do You Need a Permit?
Local authorities want to ensure that building work is safe in itself and also that it has no undue or negative impact on surroundings. Without a minimum of control, things could get crazy fast! Checks on safety and appropriateness include any zoning (land usage) limitations, water, storm and sanitary considerations, and the preservation of any existing rights of way.
What do You Want to Build?
Building permits may be required for the following (and more):
Adding a room to a house

Remodeling the interior of a house, including finishing a basement or an attic

Building a new garage or closing off an existing carport to make a garage

Sheds and storage buildings over a certain size (for example, 100 square feet)

Building a swimming pool either sunken or above ground

Decks, porches, balconies and roofing for these items

Movement of a building, for example a mobile home

Change in the use of a building (making a shop into a home, for instance)
Demolition of a building or structure (all or part of it)
Don't worry, if you're repainting a living room or putting up kitchen cabinets, a permit won't be necessary. These are non-structural, minor changes. But for any other work, if in doubt, check it out! Your municipality may also provide lists (sometimes online) of types of work that require or do not require permits.
What Will You Need to Provide to Get a Permit?
If your local authority is to give you permission to go ahead, it will want details about the building project. Oh, and money! Typically, you will need to submit the following:
The permit application form, correctly filled in

Construction plan or survey of land for building, using a style and details required or approved by the local authority

Plan review/permit fee, usually calculated according to the size or type of building work.
What Does a Permit Do for You When You Get One?
A permit lets you go ahead according to what has been permitted. If your plans or your projects change, you will need to check if you need a new permit. A permit does not mean that local building codes or bylaws apply any less either. Everything still has to be fully compliant. As a further note, the building owner or homeowner is typically the legally responsible party for making sure all the work is carried out correctly. Contractors still have a moral obligation to properly advise owners; not to mention a professional reputation to protect by making sure each residential building project keeps to the rules.
Inspections – To Prove You're Sticking to Your Permit!
According to the project, local authorities will also want to check that any work carried out is in conformance with the permit.
Your own construction job planning to take account of these inspections is very important. If you continue before a certain inspection has been carried out, the authorities can insist that you uncover the part of work that should have been inspected. As you can imagine, if you rashly laid that concrete floor before the sewage pipes underneath were checked, you'll have to 'undo' it all – with a jackhammer. Be advised that inspections are not necessarily automatic, meaning that you have to book them and make sure they happen.