A Considered Career in Gaming Law
Joseph M. Kelly Talks about a Niche Practice and Good Old-Fashioned Networking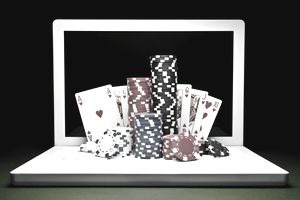 Ask Joseph M. Kelly how someone with a Ph.D. in history from Loyola University in Chicago and a J.D. from Northern Illinois University in DeKalb managed to forge a legal career in the gambling business, the Buffalo, N.Y. resident indicates that his work history has been both a matter of skill and of chance. Today, a professor of business law at the State University College of New York (SUNY) in Buffalo and associated with Haledon, N.J.'s Catania & Ehrlich for his gaming work, Kelly is a widely published authority on the convolutions of gaming law, whether that entails authorizing casinos, playing poker, or allowing online gambling.
He is also co-editor-in-chief of Gaming Law Review & Economics. (Full disclosure: This author was the managing editor of that publication for several years.) Kelly is admitted to practice in Illinois, Nevada, and Wisconsin.
His gaming career really began with a job offer in the 1980s from Nevada College of Law in Reno, Nev. Kelly became friendly with a colleague teaching a class on gaming law. A little help in researching British gaming law led to ​the authorship of a law review article on the British Gaming Act of 1968. (Joseph M. Kelly, ​British Gaming Act of 1968, 8 New York Law School Journal of International and Comparative Law 33–103 (1986).) He was also the editor of that issue, which was the first time an entire law review was devoted to gaming law. Being in Nevada and serving as a Republican precinct committee person, Kelly began to meet other gaming lawyers. He began getting some gaming clients but, interestingly, never taught a course in gaming law.
He began picking up more clients in the gaming industry after relocating to Buffalo, N.Y., where he happened to contact a judge he knew casually from work he'd done as an adjunct faculty member at the National Judicial College in Reno, where the judge had taken a course. Kelly got in touch with the judge, the only person Kelly knew in Buffalo, showed him some of his writings on gaming law and was contacted not long after by someone in the online gaming industry looking to develop an offshore gaming site.
Since those early days, Kelly has traveled around the world helping various nations write gaming regulations, spoken frequently on gaming law to diverse offices, seen his work cited in judicial opinions, served as an expert witness on gaming and published in the field often — all while maintaining his professorship at Buffalo State.
He concedes that is a lot to juggle and acknowledges maintaining a lighter schedule in recent years. Still, he relishes assignments like being the first speaker at annual Morgan Stanley conferences and helping to write gaming regulations in places as far away as South Africa. Asked about his greatest success, he points to his role in helping online gambling become legal in several jurisdictions. Gaming law is largely an administrative law practice, Kelly explains, with one exception not always found in other specialties: "You can ask your client to tell the entire truth," he says. Typically, lawyers counsel clients never to volunteer information. The grant of a gaming license, though, is considered a privilege and not a right. As such, he encourages his clients to be truthful and avoid contact with unsavory groups.
The law office administration element of his work — filing, recording time, billing — is not the favorite part of his day.
As much as he can, he relies on the help of others to complete those tasks.
For someone whose career was really built on his networking skills, Kelly is surprisingly modest about his accomplishments and maintains a relatively low online profile. He attributes the development of his client base to his writing and speaking gigs. Having his work cited as in 10 court opinions and in other documents also helps. See, for instance, Confederated Tribes of Chehalis Reservation v. Johnson, 958 P.2d 260 n.2 (Wash. 1998); John Roberts Jr. et al., Brief for American Gaming Association as Amicus Curiae Supporting Petitioners, Greater New Orleans Broadcasting Ass'n v. ​United States, 119 S.Ct. 1923 (1999) (No. 98-387), 1999 WL 95444 n.9; City of Duluth v. Fond du Lac Band of Lake Superior Chippewa, 702 F.3d 1147, 1150 (8th Cir.
2013). Given his output — and the attribution by others to his work — his career surely is attributable to skill. A little luck and a lot of hard work help, too.