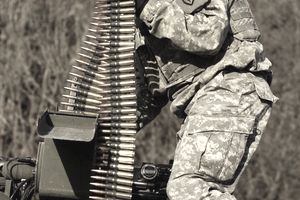 Basic Job Description
Ammunition, explosives, their components, and weapons are known within the Army as 'ordnance' and require proper care when dealing with them. Ammunition Specialists are specialized Soldiers whose primary responsibility is all aspects in the management of ordnance (ammunition and explosives). Ammunition Specialists are primarily responsible for receiving, storing, and issuing conventional ammunition, guided missiles, large rockets, explosives, and other ammunition and explosive related items; performs maintenance (field and sustainment), modification, destruction and demilitarization on ammunition and explosive components.
Duties performed by Soldiers in this MOS include:
Assists in receipt, storage, issue, maintenance, modification, destruction and demilitarization of explosive items. Performs ammunition supply stock control and accounting duties using both automated and manual procedures. Operates MHE to maneuver ammunition.
Supervises lower grade soldiers and provides technical guidance to the soldiers in the accomplishment of their duties. Assists in the preparation of transportation of ammunition, ammunition components and explosives.
Training Information
Job training for an Ammunition specialist requires 10 weeks of Army Basic Combat Training and 12 weeks of Advanced Individual Training with on-the-job instructions. Part of this time is spent in the classroom and part in the field.
Some of the skills you'll learn are:
Ammunition identification and ammunition-related publications
Ammunition/maintenance operations
Explosives demolition operations
Operation of automated and manual ammunition management systems
ASVAB Score Required: 91 in aptitude area ST
Security Clearance: Confidential
Strength Requirement: very heavy
Physical Profile Requirement: 222221
Other Requirements
Non-allergic to explosive components
Non-claustrophobic tendencies
Similar Civilian Occupations
Explosives Workers, Ordnance Handling Experts, and Blasters
First-Line Supervisors/Managers of Mechanics, Installers, and Repairers
Occupational Health and Safety Specialists
Occupational Health and Safety Technicians