2013: A Year End Appraisal of the Visual Arts
Assessing the Year 2013 in Fine Art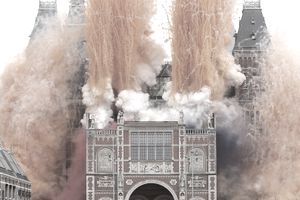 Fine Art takes a look at the top stories, including both the high and low moments in the visual arts, during the year 2013. Here are the top notable art stories from around the world.
Art Institutions in the News
The Detroit Institute of Arts made headlines as talk about selling off part of its reputable art collection to save the bankrupt city, according to Forbes and the Detroit Free Press. It was also reported that Christie's representatives visited the DIA in early June to appraise the collection for a potential sale.
On April 13, 2013 in Amsterdam, Netherlands, after a 10-year long renovation, Amsterdam's famous Rijksmuseum reopened to great fanfare and international acclaim. Renowned museums typically do not close down for such a lengthy time period, which made this renovation so unique. Currently, over 8,000 works showing 800 years of Dutch art and history can be seen in the newly refurbished 19th-century building. 
San Francisco Museum of Modern Art (SFMOMA) closed its building on June 3, 2013 in order to undergo a huge expansion. Architecture firm Snøhetta is in charge of the project. It will reopen early 2016.
Jeffrey Deitch, the director of Los Angeles Museum of Contemporary Art stepped down, according to the NY Times. The Museum's problems started much earlier with the firing of their chief curator, and the mass exodus of artists from its board in protest. The article goes on to say that even though the museum's financial situation is now stabilized, its staff and curatorial programs are in tatters.
The Stedelijk Museum in Amsterdam is currently seeking an Artistic Director as the current director, Ann Goldstein, left on December 1, 2013. With a collection of 90,000 objects, it is the largest museum of modern and contemporary art in the Netherlands.
Nazi-Looted Art Still Making Headlines
A July 2013 NY Times article reports that several US art museums are not turning over works of art in their collection to the heirs of Nazi-looted art.
According to the article, some of the museums have backtracked and will not return works, and many museums are using technical legalities and other tactics to prohibit any restitution to Nazi-era heirs.
Authorities found 1,500 paintings by renowned Modernist European painters such as Henri Matisse, Emil Nolde and Max Beckmann hidden away in a shabby Munich apartment building on November 4, 2013. The apartment belonged to Cornelius Gurlitt, whose father Hildebrand Gurlitt, aided the Nazis, in the confiscation of major artworks in the 1930s and 40s. The Nazi-looted art came from prominent Jewish art collections. The cache of art works was considered to have been destroyed during the war, but surprisingly stayed hidden away for over 70 years.
Art Auctions
Art auctions also made global headlines with the record-breaking sale of Francis Bacon's 1969 triptych, oil on canvas, titled 'Three Studies of Lucian Freud'. The sale became a world-record when the painting sold for US $142.4 million during Christie's auction on November 12, 2013. The painting depicts the close relationship between the two painter friends. 
Several art sources such as Art Info announced that its long-term head of contemporary art, Tobias Meyer, will soon be leaving Sotheby's, where he was principal auctioneer.
Even though Meyer was employed at Sotheby's for over 20 years, and was responsible for several record-breaking sales, the pressure for the highly-respected auctioneer to snare coveted artworks to boost lagging sales had been too great.
Demise of the Art Critic
2013 also marked the demise of the art critic in the USA, as renowned art critic Deborah Solomon stated there are less than "10 full-time art critics working at newspapers and magazines in the United States."
Fortunately, not all the art news was dire in 2013, as artists from all walks of life made headlines for the positive and life-affirming art that they create.
Visual Artist Elected Country's Leader
It's not often that a visual artist becomes elected leader of his/her country. But it happened June 2013 in Albania, when the people there elected Edi Rama, the leader of the Socialist Party, as the next prime minister.
Rama's experience as a visual artist and his keen support of public art murals made him popular with the voters. Rama had a successful painting career in the '90s according to Artinfo. He also taught at the Academy of Arts of Albania and his father was a sculptor.
Art Fairs
Art Basel set up shop in Hong Kong in May, receiving high acclaim for this prestigious art fair debuting in Asia.
Frieze New York, a contemporary art fair, opened on Randall's Island on May 10, 2013 in New York City and ran for four days. Over 180 international contemporary art galleries showcased their artists' works.
Highly Acclaimed Art Exhibitions
Several art exhibitions drew praise and large crowds such as "David Bowie Is" at Victoria & Albert Museum in March 2013 and in June, this year's edition of the Venice Biennale also received a ton of favorable press for its curated show and its individual pavilions such as the British one showcasing the art of Jeremy Diller and the Palestine Pavilion.
British street artist Banksy, whose clever stencil works are coveted by many art collectors, was artist-in-residence in New York City for the month of October. Each day of the month, he had been creating and installing new works in various neighborhoods of the metropolitan area.
Artist Yayoi Kusama also attended her solo exhibition titled 'I Who Have Arrived In Heaven' at David Zwirner Art Gallery in NYC. Kusama was a contemporary of Andy Warhol in 1960s era New York, where she created performances and happenings.
Manifesta announced that the State Hermitage Museum in St. Petersburg, Russia will host Manifesta 10 in the year 2014.