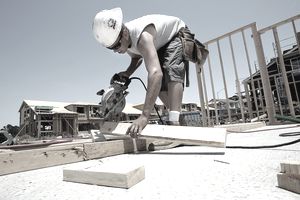 In 2012, the economy grew 2.2% according to the most recent revision made in July 2016. The original estimate was 2.2%, which was revised up to 2.8% in the 2013 revision, and down to 2.3% in the 2014 revision. For an explanation of the BEA's revisions, see Current GDP Statistics.
Here's the breakout by quarter, along with each government revision.
Q1: 2.7% ( 2.3% in 2014 revision, 3.7% in 2013 revision, 2.0% in 2012 revision)
Advance - Shopping and housing construction, (a welcome surprise) drove growth to 2.2%. Real residential investment increased 19.4%, after rising 11.6% in the fourth quarter of 2011. This is good news, because housing construction is an important component of GDP for two reason. First, it is very labor intensive. As housing construction returns to the economy, so will more jobs. Second, residential construction means that homebuilders are becoming more confident. Even though it competes with homeowner resales, it means demand for housing is on the upswing. For these reasons, housing is an important component of GDP.  In 2005, it contributed 5.8% to economic output, but less than half that (2.2%) last year. 
Second - The estimate came in at 1.9%, thanks to lower personal consumption expenditures, and higher import estimates. Other drags on the economy include continued declines in government spending, lower restocking of business inventory, and a 4.1% decline in corporate after-tax profits -- the largest drop since 2008. The downward revision set the stock market up for a 275 point drop a few days later.
Third - Growth remained at 1.9%.
Q2: 1.9% (1.6% in 2014 revision, 1.2% in 2013 revision, 1.3% in 2012 estimate)
Advance - Cutbacks in household and government spending reduced growth to 1.5%. Businesses are cautiously awaiting the outcome of November's Presidential election. They are holding back on hiring, which makes consumers cautious as well. The result? Not enough demand to drive robust economic growth. Personal consumption only contributed 1.01%, compared to a 1.74% contribution in Q1.

Cutbacks in government spending continued to subtract from GDP, although not as much as in the first quarter.  Federal and local government spending lessened economic growth by .28%, compared to a .6% drag in Q1. Imports outweighed export a bit, probably thanks to record-low euro levels.
Second - Economic growth was revised upward a bit, to 1.7%.

Third - The economy actually only grew 1.3%.
Q3: 0.5% (2.5% in 2014 revision, 2.8% in 2013 revision, 3.1% in 2012 estimate)
Advance - The economy grew a barely-healthy 2%. Durable goods contributed .63%, instead of detracting .02% in Q2. This was thanks to shipments of cars, trucks and RVs. Clothing and footwear contributed .14%, instead of subtracting .12% as they did in Q2. Federal government expenditures contributed .72%, instead of detracting .02%. This was primarily due to third quarter increases in defense spending. Growth would have been even better if it weren't for the eurozone crisis. Exports of goods detracted .35%, after contributing .67% in Q2. 
Second - Better data on exports and inventory convinced the BEA to revise growth up to 2.7%. Instead of detracting .35%, exports actually contributed .03%. The other improvement was a bigger increase to private inventories, which contributed .77% to growth.
Final - The best growth rate all year! The final estimate came in at a solid 3.1%. Businesses reported even higher levels of consumer spending and exports.  That's on top of growth in durable goods, consumables (especially clothing and footwear) and government spending, (especially for defense.) 
Q4: 0.1% (No change from 2014 or 2013 revision, 0.4% in 2012 estimate)
Advance - The economy shrank .1%, the first time the economy contracted since the 2008 financial crisis. However, it didn't signal a double-dip recession. Instead, it was driven by Superstorm Sandy, uncertainty over the outcome of the Presidential election, and a 22% cutback in defense spending mandated by sequestration. 
Second - Better data about business growth revealed the economy grew at a .1% rate.
Third - Business and consumer spending drove a .4% growth rate. First, commercial construction rose an eye-popping 16.7%. Second, consumer spending on durable goods such as furniture and refrigerators rose 13.6% thanks to  record-low interest rates. Third, business spending on equipment and software rose 11.8%.
More GDP by Year
For earlier years, see U.S. GDP History