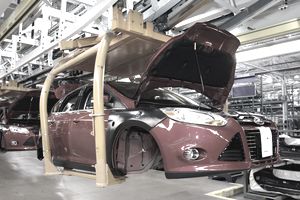 2006 was the last year before the Great Recession that the economy grew at a healthy pace. No one thought the subprime mortgage crisis would spread beyond the housing market. They ignored the clues that were there. For more, see Could the Mortgage Crisis Have Been Prevented?
In 2006, gross domestic product was $13.8559 trillion. The GDP growth rate was 2.7 percent. The means the people and businesses in the United States produced slightly less than $13.9 trillion in goods and services that year.
It was 2.7 percent better than the year before. The Bureau of Economic Analysis uses real GDP, which removes inflation, to compute the GDP growth rate. 
The  BEA reported that growth came from services, not manufacturing or consumer products. Half of the increase in the service sector occurred in only three sub-sectors. They were information technology, professional/scientific/ technical services and retail trade. In fact, manufacturing slowed significantly, especially in consumer products. That was due to low-cost competition from China. The only bright spot in manufacturing was housing. 
2016 GDP by Quarter
Growth in the first quarter (January - March) was too high. It reached 4.9 percent. That's well above the 2-3 percent ideal GDP growth rate. The Fed kept raising interest rates to cool the economy.
By the second quarter (April - June), growth slowed to 1.2 percent. The fed funds rate hit 5.25 percent.
That hurt borrowers of adjustable-rate loans. Their monthly payments rose along with Fed interest rate increases. For more, see Past Fed Funds Rate.
In the third quarter (July - September), the economy only grew 0.4 percent. The National Association of Realtors reported that home prices fell that month for the first time in 11 years.
For more, see Subprime Mortgage Crisis Timeline.
In the fourth quarter (October - December), growth returned to a healthy 2.5 percent rate. That was misleading. There were additional signs of trouble in the housing market. In November, the Commerce Department reported that new home permits had fallen 28 percent in the past 12 months. That meant home builders were not planning on building new homes at the same rate. This slowdown wouldn't show up in GDP until nine months later. That's when the GDP report captures home construction statistics.
Prior 2006 GDP Estimates
Each year, the BEA revises its GDP figures based on additional data. It also changes them monthly during the year in question. Here are these estimates, so you can see how much they changed. 
Annual 2006: In 2011, the BEA estimated growth was 2.8 percent, slightly higher than its final estimate.
Q4: 3.2 percent (Prior estimates: 2.7 percent in 2011, 3.0 percent in 2010, 1.5 percent in 2009)
Advance Report - The GDP growth rate was 3.5 percent in the fourth quarter of 2006. The BEA credited the increase in growth to personal consumption, higher exports, and higher government spending. Imports (which the BEA subtracts from GDP) were lower, which also helped the growth rate. That was due to lower oil prices, which were 12 percent of imports in 2005.
Second Report - Growth was revised down to 2.2 percent.
Third Report - Growth was revised up slightly to 2.5 percent.
Q3: 0.4 percent in 2014 revision (Prior estimates: 0.3 percent in 2012, 0.1 percent in 2011 and 2010)
Q2: 1.2 percent in 2014 revision (Prior estimates: 1.3 percent in 2012, 1.6 percent in 2011 and 1.4 percent in 2010.)
Q1: 4.9 percent (Prior estimates: 5.1 percent in 2011 and 5.4 percent in 2010.)
How It Affected the U.S. Economy
The 2006 GDP report reflected the changing nature of the U.S. comparative advantage. The U.S. was still competitive at producing services, especially finance, real estate and health care. It was still competitive in producing high-end telecommunications and IT services for businesses. But, it became less competitive at producing consumer products, which were being imported more cheaply from China.
 The forecasts for 2007 predicted continued slowing as a result of the decline in housing construction.
More GDP by Year
For earlier years, see U.S. GDP History