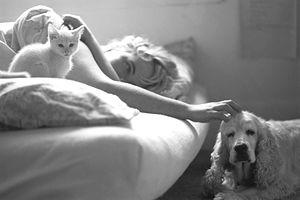 For most families, no one is more beloved than the family pet. Unfortunately, if your beloved pet becomes ill or suffers an accident, medical costs could be very expensive. Pet insurance may be the protection you need to offset these costs. It can also pay for things such as annual wellness checkups, immunizations, spaying, neutering, and more. Of course, you will have to weigh the cost against the benefits and see if it makes sense for you and your family.
Pet Insurance Policy Features, Benefits and Exclusions
A pet insurance policy is in many ways similar to your own health insurance policy. It covers things like accidents, wellness visits, injuries and illnesses. You may be able to add policy riders that will give you increased coverage for things like vaccinations, X-rays or prescription medications. For very expensive or exotic pets, you may even be able to purchase life and theft insurance. Liability insurance is also an option to consider, which would protect you against expenses and legal liability if your pet bites or harms someone. Many homeowner's policies provide this coverage but if—for example—you own an aggressive breed of dog, extra protection may be advantageous to you.
Each pet insurance policy is different so it is important to review the features and benefits; what is covered and what is not covered. There will be exclusions, meaning these are services that are not covered.
Exclusions on a pet insurance policy can be for things such as certain surgical procedures, emergency visits, boarding fees or cosmetic procedures. Even if a service or fee is covered, you will first have to take care of the deductible before your pet insurance policy will pay any benefits. Deductibles may be based on a per/accident or per/illness basis or may be on a per policy term basis.
Pets with a pre-existing medical condition or older pets may be excluded from coverage.
Most policies will have a co-pay amount, meaning this is the amount you pay for a service before your insurance company pays out on the claim. If you use a preferred provider, your co-pay amount may be less. There is normally a maximum amount or policy aggregate, meaning that this is the maximum amount your policy will pay out on claims during one policy period.
10 Insurance Companies Offering Pet Insurance
There are many insurance companies offering pet insurance to consider when choosing the best policy options. Here are 10 insurance companies offering pet insurance to get you started when comparing policy benefits, premium amount and optional coverages.
Healthypaws: Healthypaws Pet Insurance & Foundation was founded in 2009 and offers a comprehensive accident and illness pet insurance policy. The policy provides coverage for accidents, illnesses, cancer, emergency, care, genetic conditions and alternative care for dogs and cats. There are no limits on claims. Healthypaws has an "A+" rating with the Better Business Bureau. It has also been voted best pet insurance company in 2012, 2013, 2014 and 2015 by petinsurancereview.com, Consumersadvocate.org and PetInsuranceQuotes.com. There are unlimited lifetime benefits and no claim caps. Pre-existing conditions and preventative care are excluded from coverage.
Trupanion: Trupanion pet insurance provides cat and dog insurance with unlimited payouts with no caps on coverage. There is a 90 percent payout for covered procedures and services, leaving you to pay the 10 percent co-pay directly to the veterinarian. You can choose your own deductible from $0 to $1,000, allowing you to find a plan that works with your budget. Pre-existing conditions, wellness exams and preventive care are excluded. Trupanion is "A+" rated with the Better Business Bureau.
Nationwide: Nationwide was one of the first U.S. insurers to offer pet insurance. There are three different pet plans available through Nationwide: Whole Pet: 90 percent back on veterinary bills. Covers exams, lab tests, X-rays, prescriptions, surgeries; hospitalization, chronic and hereditary conditions (with no waiting period) and wellness exams. Coverage begins at $64/month; Major Medical: Covers most common medical costs including exams, lab tests, X-rays, prescriptions, surgeries, hospitalization, chronic conditions, hereditary conditions (waiting period applies). Coverage begins at $34/month; Pet Wellness: This plans coverage yearly checkups, wellness exams, flea and heartworm prevention and vaccinations. Coverage begins at $17/month.
Is Pet Insurance Right for You?
When deciding if you should purchase a pet insurance policy there are several factors to take into consideration such as the age and current health of your pet, the type of breed and whether or not this breed is susceptible to certain conditions or diseases and what type of environment you live in—for instance, will your pet be exposed to factors that could cause accidents or health problems like other dangerous animals or heavy traffic areas? Weighing all these factors, you will then have to determine if the cost of the policy makes sense to protect you against any of these expenses.
If you do decide that Pet Insurance may be the best option for you and your pet, you can find out which companies are financially stable through insurance rating organizations such as A.M. Best and which ones have the best customer service ratings through consumer organizations such as J.D. Power & Associates as well as checking out how the company handles complaints with the Better Business Bureau.